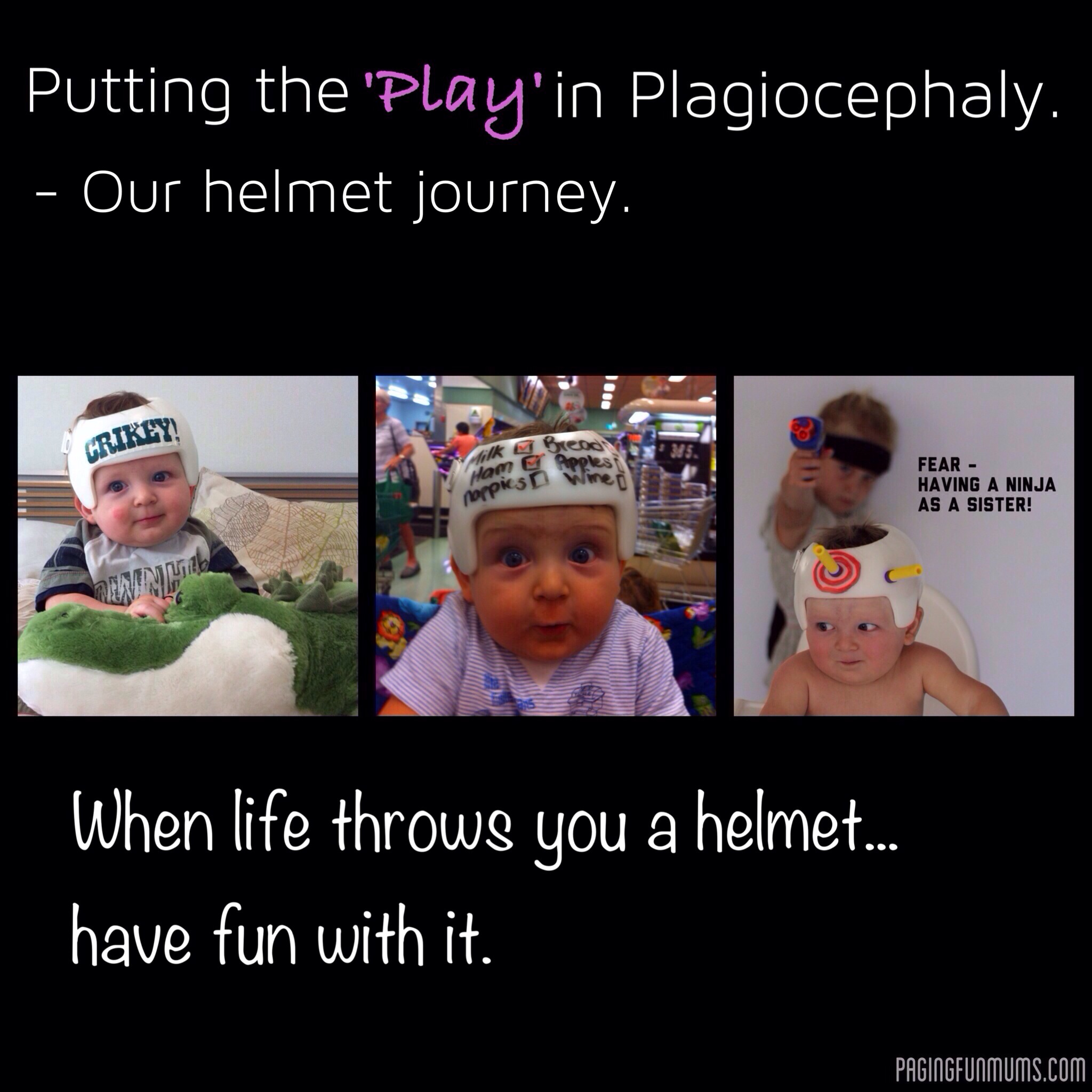 When life throws you a helmet – have fun with it! That's what we decided anyway…
At five months old, my baby boy, Mason, was diagnosed with brachycephaly. In layman's terms: a severe flat spot on the back of his head.
I took him to a physiotherapist for eight weeks to correct the problem, but there was no improvement. Instead, it was recommended by various medical professionals that my flat-headed son be fitted with a 'helmet'. A what!?
The cause
Flat spots can be the result of many different things, but generally they develop because babies spend a lot of time on their back*.
Mason also suffered with severe silent reflux and was hospitalised after aspirating on his own vomit. Important 'tummy time' was too uncomfortable for him, so aside from cuddles and feeding, he spent most of his awake and asleep time slightly elevated on his back.
The decision
Countless hours on good ol' Google produced few answers and little encouragement or advice about corrective helmets. I lost a lot of sleep trying to decide if I was doing the right thing by my unsuspecting baby boy.
My first concern was how the helmet would affect Mason's sleep. I thought it would be irritating and prevent him from sleeping through the night.
I also didn't want him to resent me for making him wear the unflattering and potentially uncomfortable device.
My third concern was how it would affect the whole family, in particular, my four-year-old daughter. Mason would look different to other babies. People might stare. And the biggest issue for any four year old: he might get much more attention.
The night before I collected the helmet, my husband (and very proud dad) raised a few concerns.
Hubby: "It's not like anyone will know he's wearing it."
Me: "It's going to be on 23hours a day."
Hubby: "But you don't 'have' to take him everywhere in it do you? And you definitely won't post any photos to Facebook of him wearing it".
Me: "Why not? Why should we care what strangers think? And our 'true' family and friends will be supportive. We can't hide at home for three months. I think we should just 'put it out there'".
Hubby: "I suppose. I just don't want people to make fun of him."
Me: "As soon as we get it I'll email everyone and post a pic on FB with all the information so people have a chance to process and accept it before they see him wearing it." My husband was just being honest. No parent wants their child to be teased or thought of as 'different'.
I have gained so much respect for the parents of handicapped children. There were some days when we just needed to quickly get a few items from the shop and I couldn't get down one aisle without someone asking "Oh my, what happened to him?"
Some days I felt like handing out a 'why my son has a helmet on' flyer to avoid the probing questions. I would remind myself how lucky I was; Mason's problem was easy and quick to fix.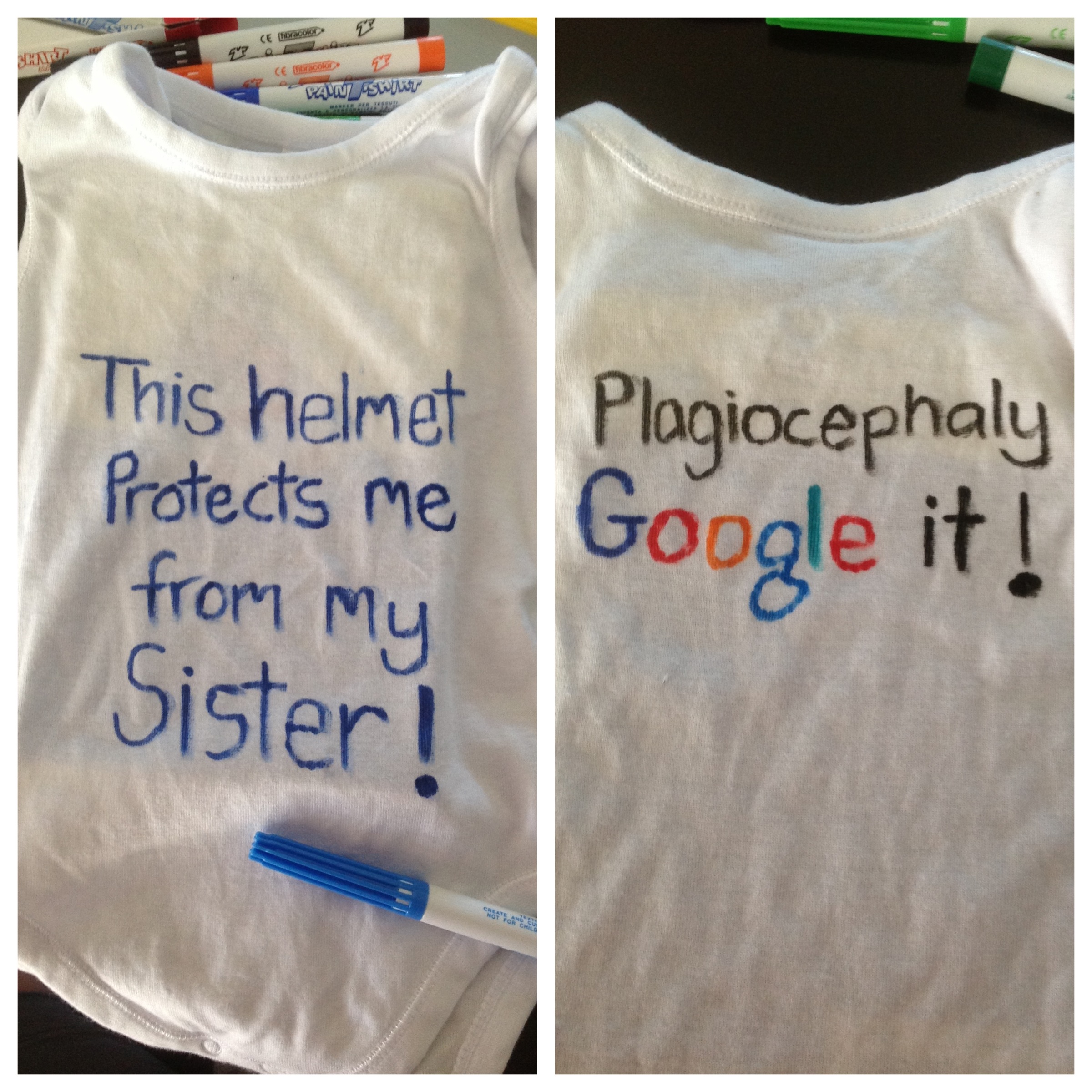 About the helmet
We had our helmet made and fitted at Brisbane Prosthetics & Orthotics.
The helmets are made with a soft, spongy, waterproof foam and a hard outer casing. They work by leaving a gap where the flat spot is – this encourages growth into that gap & alleviates any pressure on the existing flat spot.
The helmets are usually fitted between 4-7 months of age – this is the most effective time while a baby's head is still growing quickly. Usually the quicker the head grows the less time is needed in the helmet.
A baby's head will naturally grow into a more correct shape as they get older but using a helmet will ensure a good 'head' start and give the best results in the shortest space of time.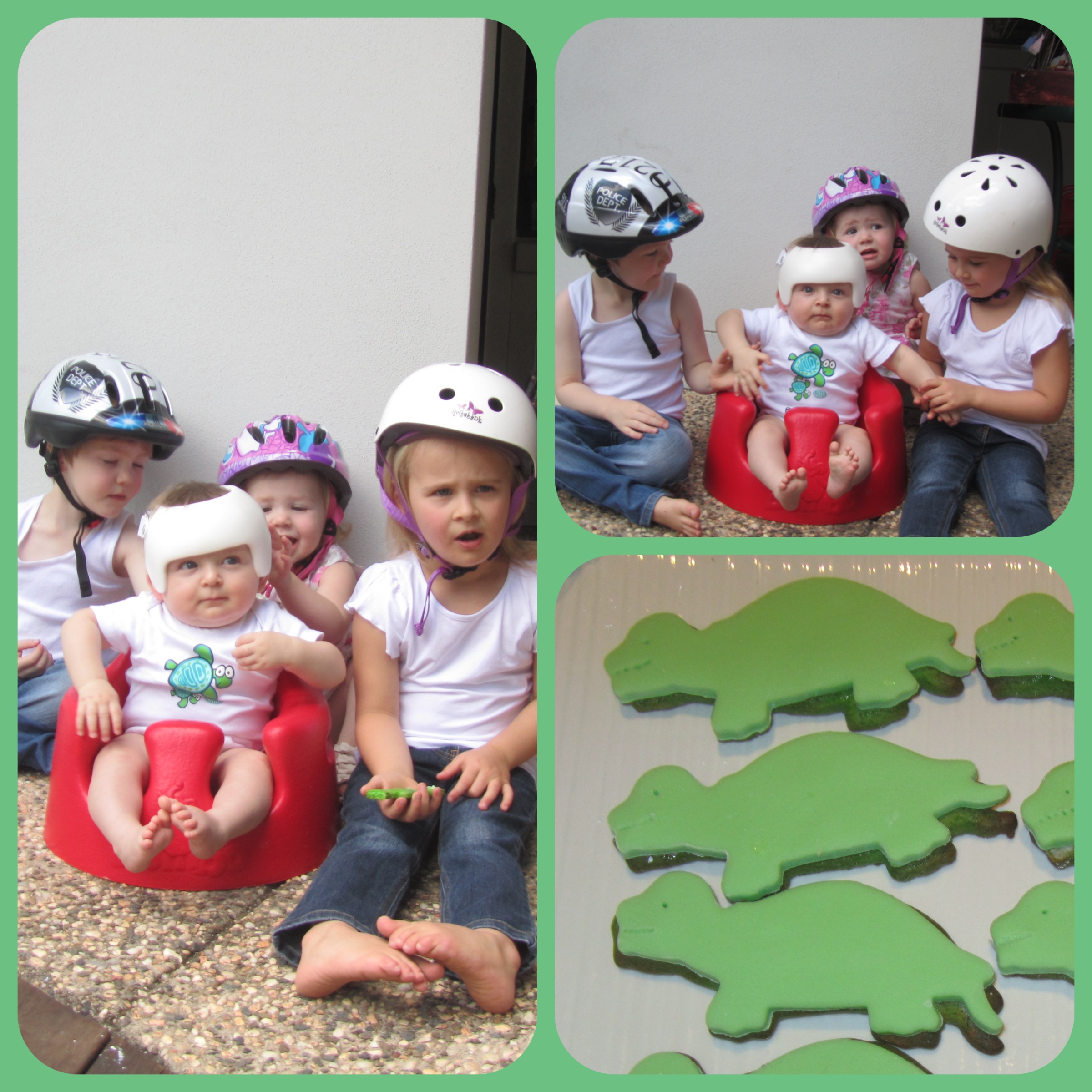 Making lemonade out of lemons
Once the helmet was on, I decided to turn a negative into a positive and take a head-on (don't mind the pun) approach by adding a touch of fun and creativity to the otherwise bland device. I wanted family, friends and even strangers at the supermarket to feel free to ask questions and feel comfortable with it.
We could have got some patterns on the helmet, but as cute as they were, we decided to go with a plain white one to help Mason stay cool in the hot climate we live in. Instead, I decided to decorate it myself with fun stickers. If there was a holiday or party, Mason's helmet was themed appropriately. The serious fun started when I realised I could use a whiteboard marker to write on it.
Mason became a 'spokesbaby' for Playgiochepy. Whether we were at playgroup, the local shops, restaurants, birthday parties or on holidays, Mason's helmet would invite many questions. I was often approached by mums who were considering one for their baby, or knew of another baby wearing one. I was surprised how many other babies we met who were wearing helmets too!
Playgiochepy is more common than you might think. In the future, as the treatment becomes more accessible, I'm sure 'helmet babies' will be a 'normal' sight.
Tips for a happy helmet-wearing bub
1. We continued to wrap Mason's arms down for his sleeps so he couldn't pull at his helmet in his cot. I found sticking to his normal sleep routine helped him adjust to the helmet quickly.
2. We put a lambskin/sheepskin in his cot and pram to help cushion the helmet. This is not SIDS approved, but it helped Mason.
3. Request that lots of holes be cut in the helmet. This lets their head breathe and helps prevent heat related issues.
4. Be prepared to see some heat rash-type symptoms in the first few weeks. We used a powder inside the helmet and on his body when rashes occurred. If you are concerned, it's best to consult your helmet team. I asked a few other 'helmet baby' Mums and their babies had experienced the same one-off rash in the initial weeks.
5. Be prepared to wean them out of their helmet. It's not as simple as just taking it off – there is an adjustment period. It even took me a few weeks to shake the 'something is missing' feeling.
6. Most importantly: stick to the rules! The helmet is designed to wear 23 hours a day. I think some parents think they're doing the right thing by taking the helmet off to give their baby a rest. Can you imagine how confusing that would be for a baby? Consistency will help them adjust quickly and get the best possible results.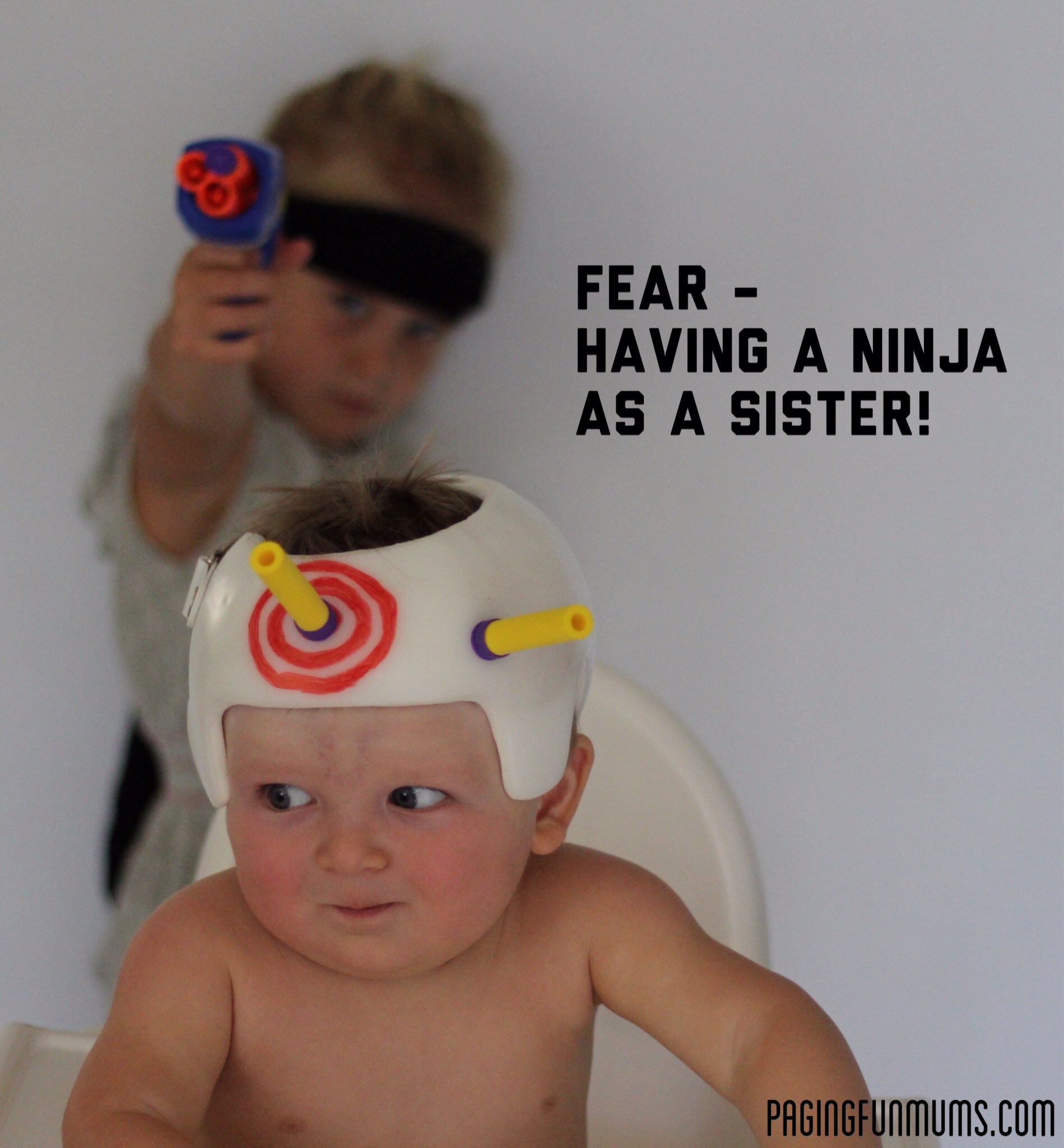 Foot loose and helmet free!
As I write this, my happy, healthy and helmet free baby is climbing all over me. I can't help but wonder what all the fuss was about.
While every child and situation is different, I can say with confidence that the helmet was the best decision we made for our baby boy.
All the things I was worried about were not an issue once I decided to have some fun with it. Even my four-year-old daughter took it in her stride and requested to wear her bike helmet to the shops to match her little brother.
The time went fast and was filled with so many special memories. Mason celebrated his first Christmas, all with his little white helmet.  And I have lots of photos of my cute boy sporting the helmet to show at his 21st birthday. Hopefully by then he will just be grateful for his normal shaped head!
Now his helmet sits abandoned on top of his bookshelf. I have joked that it became my third child after the time I spent bathing and drying it each night. I'm sure I'll think of something fun to do with it!
* This is recommended to reduce the chance of SIDS. I do not recommend any different.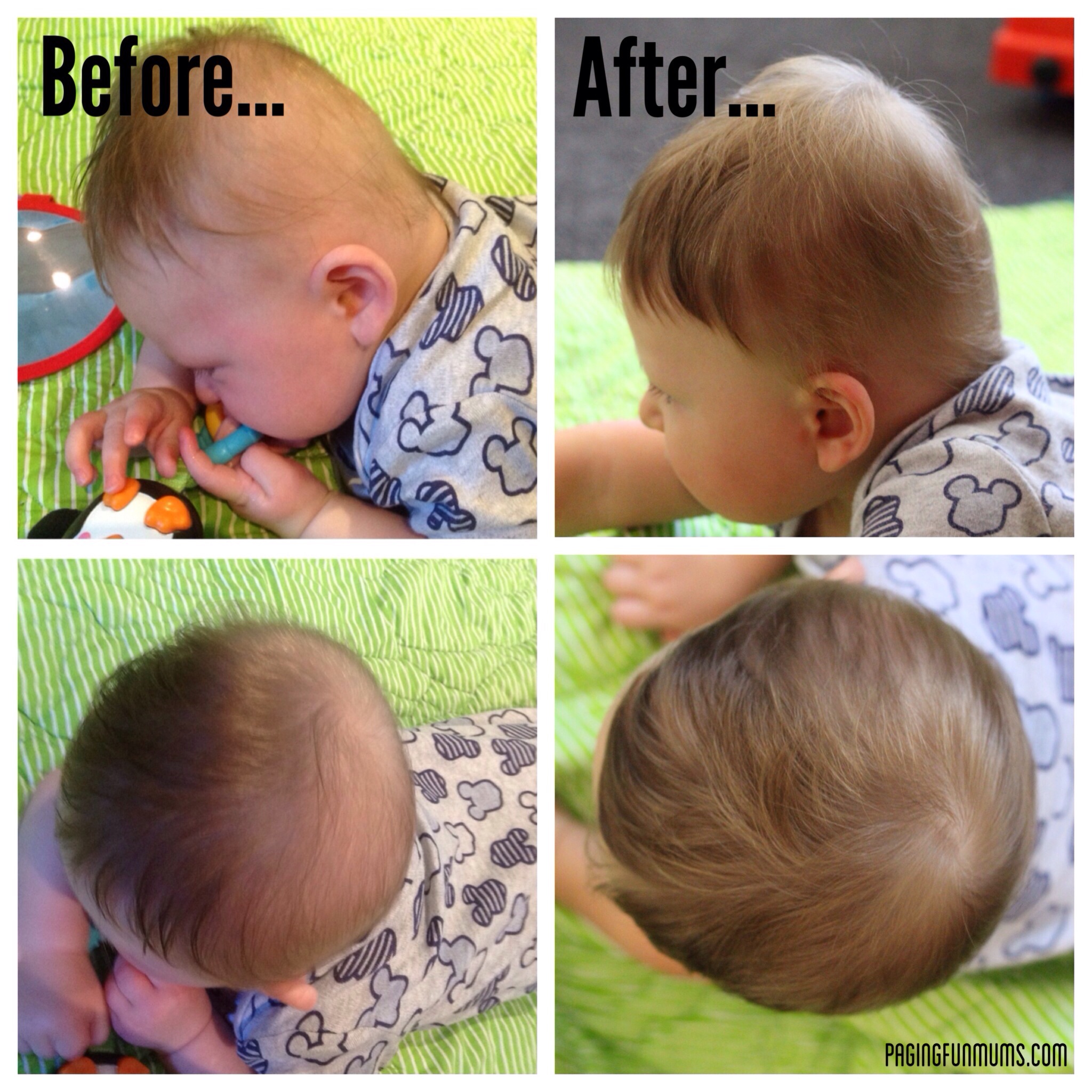 Please feel free to ask any Q's in the comments section :).
Louise x
If you want to make sure you receive all of our fun crafts, activities, recipes & ideas, be sure to subscribe to our blog & we'll email you!