I recently put together a Unicorn Themed party for my little girl thanks to The Reject Shop. When I approached Slumber Party Tents to collaborate, they jumped on board. Can I just tell you that I am just so grateful that they did. What they put together was truly magical! My daughter and her friends had the time of their lives. Slumber Party Tents really created some magical memories for them to last a life time.
I did a Facebook LIVE video on the day showcasing the tents, you can see it below:
The attention to detail including teeny little Unicorn fairy lights, Unicorn pillows, Unicorn sleeping masks and even Unicorn fabric was really something special.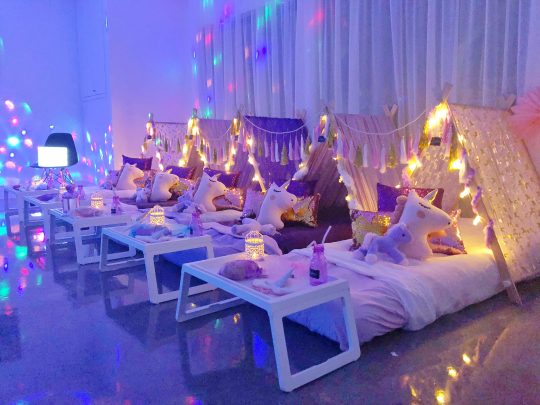 They even included a disco light which sent beams of coloured light throughout the room – it was simply magical!
The girls just loved having their very own names on their individual tents too! All five girls even received a special 'party bag' which were left on their individual tables. They were brimming with nail polish, brushes, nail stickers, facial wipes, you name it! This added another fun activity to the party which the girls loved.
The lovely Donna & Bonnie came with everything ready to set up and were done so quickly (the pack down was even faster). When I walked into the room to see it all set up, I literally got tears in my eyes. What these lovely ladies do is something to be admired.
The girls do plenty of different themes for your little boy or girl. Check out their Instagram page for some beautiful imagery. You can also follow along on Facebook for more great ideas and to check out other reviews.
You can check out where I got all of the beautiful party accessories here.
If you want to create a magical party for your little one, head to Slumber Party Tents and let them create the magic for you!
Jen x
If you want to become a Fellow Fun Mum Member & receive all of our fun craft, recipes & activities as well as special offers & promotions – click the button on our home page 🙂
Oh, and why not pop over and 'like' us on Facebook OR perhaps Twitter is your thing. You can also find us on Pinterest & Instagram too!        
We also have some fun video tutorials for you to view on our YouTube Channel.