I wanted to do something a little less 'spooky' for my little girl for this Halloween…I also wanted her to glow…this costume was perfect! It certainly got plenty of comments (which of course she loved).
If you want to replicate this costume you will need:
A clear umbrella (preferably dome shaped)
5 – 6 rolls of ribbon (I used a mix of thick & thin)
2 x A4 sheets of white cardboard
1 x A4 sheet of black cardboard
Battery operated fairy lights (mine were actually the 'rope' style which were super easy to work with)
Glue gun/strong glue
Step 1
Cut your ribbon in strips to floor length (depending on how tall your child is)
Glue them to the inside of the umbrella all the way around
Step 2
Start attaching your fairy lights. This is quite easy if you weave it in and around the inside metal of the umbrella. I didn't have to use any reinforcements which was great!
Step 3
Cut out two large oval shapes from your white card (for the eyes). Then cut two small circles (for the eye pupils) out of the black card. I also cut eyelashes for ours…this is of course optional.
Step 4
Switch on the fairy lights and watch your new jellyfish and your child's face light up!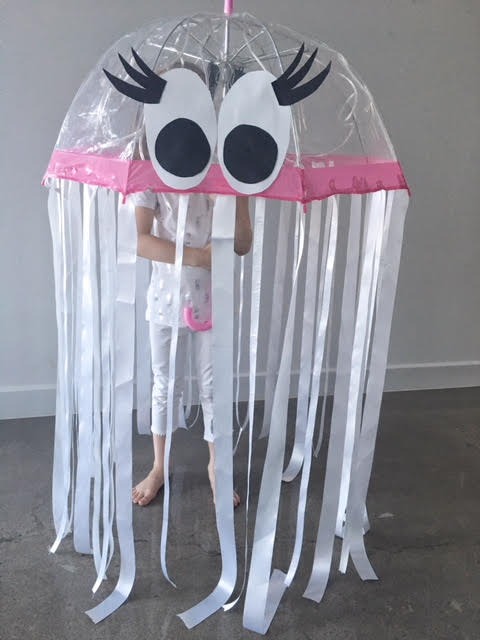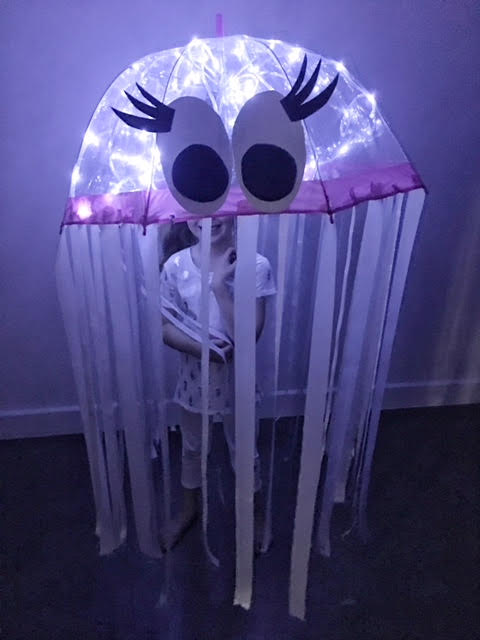 She just loved this costume and I must admit, I did too. It would be great for an under the sea party, book week or just because!
I made my son a 'Cereal Killer' costume…you can get all of the DIY details here.
Let me know if you decide to make any of these costumes, I'd love to hear your feedback!
Whilst you're here, you may like to view our:
Glowing Halloween Decoration using Plastic Cups
Jen x
If you want to become a Fellow Fun Mum Member & receive all of our fun craft, recipes & activities as well as special offers & promotions – click the button on our home page 🙂
We also have some fun video tutorials for you to view on our YouTube Channel.