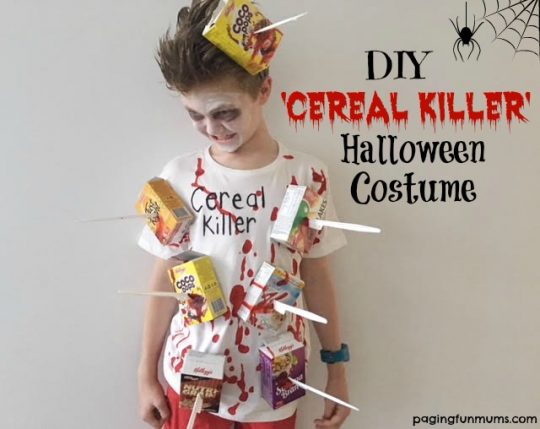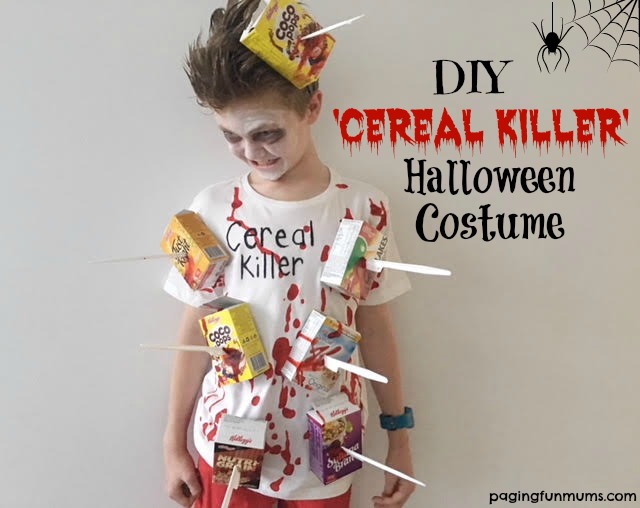 My kids are well into Halloween now…it's actually becoming more and more popular in Australia. When I saw a similar idea to this on Pinterest, I knew I just had to do it justice. I love me a 'punny' costume!
This was super easy to make & probably cost about $20 all up…thats cheaper than the costumes in the cheap shops #winning.
To replicate this costume for your little monster you will need:
White shirt
Mini cereal boxes
Plastic knives
Fake blood
Plain headband
Glue gun/strong glue
Sharpie/fabric marker
Step 1
Write 'Cereal Killer' using the sharpie/fabric marker at the top of the shirt…we want everyone to 'get' the costume straight away.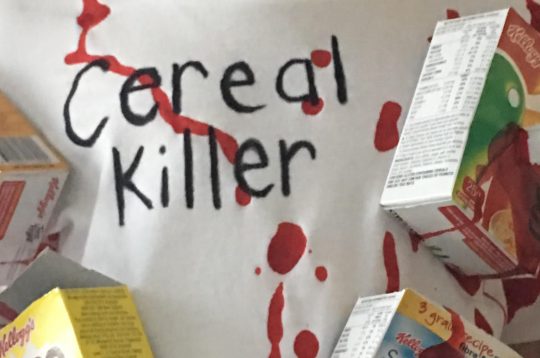 Step 2
Make a small slit in each cereal box & stab in a plastic knife (I reinforced the knives with a little glue).
Step 3
Using your glue gun/strong glue, start sticking on the boxes to the shirt. Also adhere one to the headband…for added effect!
Step 4
(You may want to put plastic under the shirt before you do this part). Drizzle your shirt & cereal boxes in the fake blood…this was surprisingly therapeutic lol. I made sure to put a little blood around the tips of the knives too. To dry the blood super fast, place the shirt outside in the sun.
I added a little face paint to my little man and spiked up his hair to go with the part.
He got some many comments whist we were trick or treating, a lot of people got a good laugh out of it too!
So there you have it, an easy, inexpensive and awesome costume idea. Let me know if you're going to give this a go!
I made my daughter a 'Glowing Jelly Fish' costume…you can check out how to make that one here.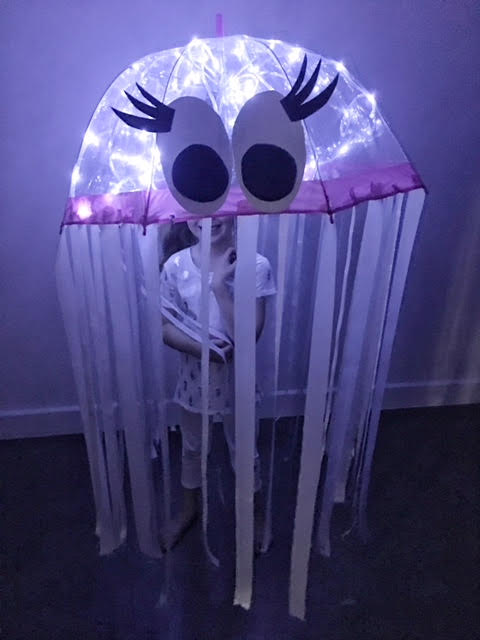 Whilst you're here, you may like to view our:
Glowing Halloween Decoration using Plastic Cups
Jen x
If you want to become a Fellow Fun Mum Member & receive all of our fun craft, recipes & activities as well as special offers & promotions – click the button on our home page 🙂
We also have some fun video tutorials for you to view on our YouTube Channel.