The Maldives has been on our travel bucket list since we started researching honeymoon destinations, needless to say it was way out of our budget 10+ years ago. We're pleased to report that we were finally able to tick this destination off our travel list and are even more pleased to report that thanks to amazing budget airlines like Scoot this destination is no longer out of the realm of possibility. We had a stop over in Singapore too which was simply AMAZING, you can check that out here.
Scoot airline travels to over 60 destinations across 17 countries with plans to further extend their destination network even more in the near future. They also offer some amazing SALE flights and we strongly suggest you follow their Facebook page here to keep an eye out for some ridiculously cheap flights or register your interest on their website and they'll email you the new offers! We found the Scoot staff (Scooters) to be very friendly and the service was impeccable. The plane and amenities were clean and comfortable and we were impressed to learn how the 787 Dream Liner aircraft offers a lower cabin altitude and better humidity than other aircraft – reducing headaches, dizziness and fatigue. We also can't go past the larger windows too, if you're flying Scoot, you really want to land a window seat as they're larger than most others and have a crazy feature that changes the tint of the window without using a shutter. We'll share some tips about our flight & what to pack further in the blog.
We were excited to get the opportunity to experience our first Club Med Resort whilst we were in the Maldives, in fact we visited two of their resort islands during our stay. We had never stayed in a club Med resort before but had heard great reports from friends who have holidayed at many of their resorts in the past.
There are some BIG advantages to booking a family vacation with Club Med, by far the biggest was that everything you need is included in your package…the only time we spent extra money was upon leaving when we purchased some small souvenirs from the local Male store holders. All of our food & drinks (including snack bars) where included and we were happy to sample ALL of the cocktails on offer (at NO extra charge). We could easily see why families would love this all inclusive option, you have NO stress about how much that extra meal or kid's milkshake is going to cost you and let's face it nothing will ruin your holiday more than stressing about going over your budget.
We enjoyed a short flight (under 5 hours) from Singapore to Male with Scoot airlines and arrived at around 8.30pm local time and as soon as we passed customs we were warmly welcomed at the Club Med Kani check-in desk. Even at that late hour after travelling all day we couldn't help but feel excited as they swiftly tagged our luggage and arranged our 30min boat transfer. The boat transfer was an adventure in it's own right and had us all squealing in delight as it swerved through the coral reefs in the darkness. Once we arrived at the Island we were escorted along the beautifully lit jetty to the main reception, given a refreshing arrival drink and brief overview of the island. We then all choose to head to our rooms and retire for the night.
We think it was a pretty amazing experience to arrive at night as we went straight to sleep in our comfortable Club Rooms (pictured below) and then had the thrill of waking up in absolute PARADISE! Everyone in our group explained how they had woken and taken a quick peek through the blinds before ripping them open and practically running outside! Beth (Baby Mac) didn't even have her pants on!! Once she 'panted up' Jenni, Beth and myself took in the magical sunrise, something that would soon become a morning ritual for us each morning. You really don't want to miss a minute of daylight on this spectacular island.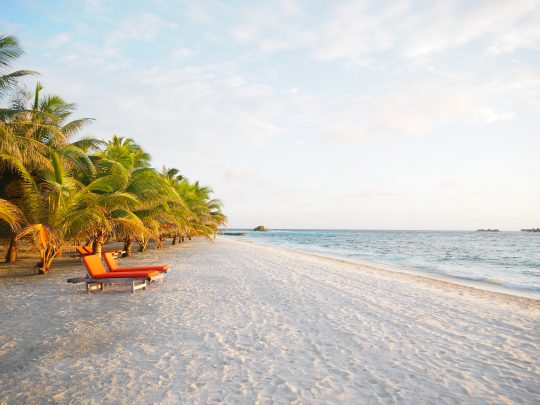 Up until 12 months ago Club Med Kani was only available to couples but now they've renovated and opened the island to families! They have some pretty exciting kids activities on the island and even more set to be included over the coming months. We visited their kids activity space and were thrilled to see so many kids enjoying themselves with their friendly team of childcare staff. They were having the time of their lives and the HUGE smiles on the parents faces as they left the centre proved that everyone was enjoying this family friendly resort.
We saw first hand how much FUN the kids were having as they snorkelled, kayaked and even had a pirate treasure hunt party! This gives us parents the perfect opportunity to spend some quality couple time around the resort 'kid free'.
We were taken on a full island tour where we were able to walk through all of the different room types from our club rooms to the amazing over water suites in the Manta exclusive zone (no kids allowed in this section) with it's own private beach. We filmed a Facebook LIVE video that you can watch below.
When we return with our family (not if, when) we would choose the interconnecting club rooms, they were situated on the far side of the island with their own stretch of beach directly in front. There was also another set of rooms on the upper level near the pool which could also accommodate a family. Head to their website here to see all the room types and be sure to follow Club Med Kani on Facebook to keep an eye out for their amazing SALE prices.
We dined at several restaurants on the 1 kilometre long stretch of paradise. Our group met at breakfast each morning to go over the day's plans whilst enjoying freshly made omelettes from the omelette bar, whatever breakfast tastes you have they accommodate them. We enjoyed watching one lovely family eat their weight in the delicious tropical fruits on offer, seriously – bowls and bowls of dragon fruit and paw paw. We later learned they were a vegan family from Russia and that Club Med Kani had specially arranged to have a huge range of food specially made for them (got to love a resort that goes to amazing lengths to accommodate their family guests). The staff go out of their way to entertain the kids too. It was clear that the staff enjoy hosting them.
It's hard to pick a favourite dinner dining experience but the specially themed 'White Night' outdoor pop-up restaurant had an amazing family friendly atmosphere with live music and an amazing array of flavourful dishes, fresh seafood and delicious deserts.
At night the restaurants and bars were buzzing but during the day it doesn't seem like there are many people on the island at all? Perhaps it's because everyone has each found their favourite spot or are busy doing all the water sports? Beth located a lovey protected cove complete with it's own over water swing set!
We swiftly named this hidden spot 'Beth's corner' and we would spend our free time floating about and enjoying the odd cocktail that was delivered to us by the drinks cart (yes, that's what I said, a DRINKS cart!), we even tried to steal it at one point. lol
Water sports aren't just for the kids! We took full advantage of the FREE options like kayaking, snorkelling and sailing! Of course we spent the whole time singing Moana as we sailed across the azure blue waters! You can check out the video below.
Now let's take a moment to talk about the snorkelling, ALL of the snorkelling. Club Med Kani offers two free snorkelling excursions each day at 10am & 2pm (weather permitting). We experienced some of the best snorkelling of our lives, the weather was overcast however the water clarity was still crystal clear, we can't honestly imagine what it must be like on a sunny day! We swam with turtles, thousands of colourful fish, reef sharks and stingrays but the most exciting sighting happened on our last snorkelling trip!
I'll never forget the look on Jenni's face when one of our local dive instructors popped his head up and yelled (excitedly) "Shark! HUGE Shark!!". He seemed pretty relaxed about the whole thing but somehow our Bupa Travel Insurance came front of mind for us. The local Male instructor went on to explain "It's huge *arms in a large circle*, it's sleeping, it's a grey nurse". I think the sleeping part was the best thing we heard all day lol! I kindly asked him to take my GoPro down so we could see it ourselves once we were OUT of the water. You can check out just a few highlights of our snorkelling below (including the giant Grey Nurse Shark estimated to be 10ft long!).
After spending so much time enjoying Club Med Kani's amazing coral reefs we were pleased to be able to give back to reef before we said goodbye. We took part in a group activity to create a new coral garden! Our group was lead by Kani's Marine Biologist and we were SO impressed by his knowledge and passion for looking after our seas. He collected broken pieces of coral from the reefs surrounding the island (these reefs are naturally broken by the large surf on the outer edge) we then attached them to a man-made metal frame for them to grow and create new coral homes for the sea life. There has been a study done into this process which you can read all about here. It felt really good to give back to this beautiful Island that had offered us so much of her beauty during our stay. As part of sponsoring our coral garden we will receive photos and updates as it grows! We even got to name it! Now we all want to re-visit to witness our garden growing in the future first hand. You can also take a tour of their MobiReef too, it's another great way to learn about all the different marine habitats and the animals that live in them.
Club Med Finolhu
"I've found my natural habitat…I'm never leaving" were the first words we heard from Beth as we arrived on this exclusive adults only Club Med Resort. Words just can't do this epic luxury resort justice. The resort itself is set on it's own private Island.
We spent the day exploring this amazing resort and all of it's natural beauty from the beaches, snorkelling, day spa, cocktails, pool and one of the best meals we've ever eaten in their over water restaurant. If we could've paused time we would have. Check out the amazing over water villas in this video.
On this luxury Maldives Resort, you have your own butler that caters discreetly for all your needs, a personal plunge pool and a staircase that descends straight into the ocean or a room just a few steps away from your own private beach. The main restaurant is AMAZING with it's own glass floor! Beth and Jenni choose to create their own style of luxury snorkelling…well played ladies, well played!
Club Med Finolhu is just a short 5min speed boat ride from Club Med Kani and I met a couple of Finolhu guests who used the boat service to come across to Kani for the Queen themed concert one evening before jetting back across the waters to their waterfront home afterwards. What a great service.
Club Med Kani guests can pay extra to enjoy all Finolhu's resort facilities however no children are allowed so you'll need to book them into the Kani Kids Activities while you take the short 5 min boat ride across.
Overall we left feeling relaxed and excited to do more travelling in the future, both with Scoot and Club Med! We've pretty much done nothing but search their websites for deals and destinations ever since we touched back down at the Gold Coast airport. We stopped into Singapore on the way home for two days, you can read all about that adventure here. For now we will leave you with one more video of our time spent at Club Med Kani!
We would also like to thank Bupa for supplying our travel insurance, we're very thankful that we didn't need to use it but we know we would never travel without it and your application process was swift and easy.
And lastly we would like to thank our amazing group of travelling buddies. This trip wouldn't have been the same (or as much FUN) without them!
If you aren't already following along with these amazing people, click the links following: and keep an eye out for their travel blogs on the Maldives too!
The Organised Housewife,  School Mum, Baby Mac   Suburbly and Big Family Little Income.
TRAVEL TIPS AND EXTRA INFO
Here are some tips and what to pack when you're on a long haul flight.
What to pack in your carry on luggage!
Passport
Phone/iPad device
External charger & cables
Bose Noise cancelling headphones
Tissues
Neck pillow
Eye Mask
Scarf (to use as a blanket if needed)
Medicines
Antibacterial wipes
Travel socks (to prevent extra swelling)
Travel Toothbrush & breath mints
You can also find heaps of other great packing tips and checklists via Katrina The Organised Housewife, click this link to see them all. Don't forget to check out our trip to Singapore here too!
Jen & Lou x
If you want to become a Fellow Fun Mum Member & receive all of our fun craft, recipes & activities as well as special offers & promotions – click the button on our home page 🙂
We also have some fun video tutorials for you to view on our YouTube Channel. 
SaveSave
SaveSave