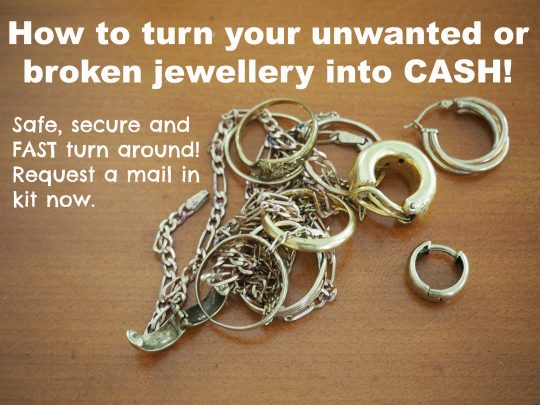 This post is sponsored by Gold Buyers. 
How to turn unwanted or broken jewellery into CASH, all from the privacy of your own home! Plus, no pressure to sell, if you're not happy with the price they offer, you can have it returned FREE OF CHARGE.
I worked in a Jewellery store as a teenager and accumulated lots of small items that I no longer wear, including broken pieces and single earrings. These items have sat in my dresser for over 10 years!! I was thrilled to learn that I could easily and quickly sell these unwanted items using Gold Buyers' simple, speedy and secure 'mail in' service.
It's as easy as gathering up your unwanted items (Gold, Silver or Platinum), requesting a mail in kit and sending the jewellery off to be appraised. They supply you with an Australia Post registered parcel (insured) to send post your unwanted Jewellery in. You can track your parcel and they'll be in touch with an offer the same day as receiving your parcel, as I mentioned earlier there is no obligation to accept their offer but if you're happy with it they will transfer the funds directly into your bank account within 24 hours. How easy is that!
Gold Buyers is a professional Australian company that offers a safe in-home service, you can also follow their Facebook account to see the current gold prices here.
I used my cash to go towards surfing lessons for my 8 year old daughter, I would much rather see her enjoying the surf than have old and broken jewellery sitting in my dresser!
So why not have a look in your jewellery box and make some extra cash to put towards something new or something you've been putting off because you didn't have the funds. Click here to request a mail in kit now.
And watch this short video to see how easy the process is.
Louise x
If you want to become a Fellow Fun Mum Member & receive all of our fun craft, recipes & activities as well as special offers & promotions – click the button on our home page 🙂
We also have some fun video tutorials for you to view on our YouTube Channel.