This post is sponsored by Steggles.
Spending quality family time is so important. The way we like to do it is to have some good old fashioned fun! 'Minute To Win It' games are super popular because they are inexpensive, creative, competitive fun!
Steggles has sponsored this post because they're all about families sharing quality time around the dinner table, at home and outside! They'd like families to share their quality time images as a way of inspiring others with family friendly activities and ideas; so we're asking YOU our fellow Fun Mums to help. Simply publish an image of your family sharing quality time together via Instagram or Twitter using these hashtags #Stegglerfor #qualitytime to go in the draw to WIN 10 Hoyts Movie Tickets! Make sure to search the hashtags to see what others are sharing too! Winners will be selected by the Steggles team at the end of summer school holidays.
We've put together a list of Five of our favourite Family Minute To Win It Games as a way of providing you with a few ideas about how to enjoy fun quality time with your family these holidays.
Stack the Cups
Each member of the game is given a set of cups (as many as you like) and set a timer for one minute. The person with the highest tower in that minute wins!
2. The "Cheetos Toss"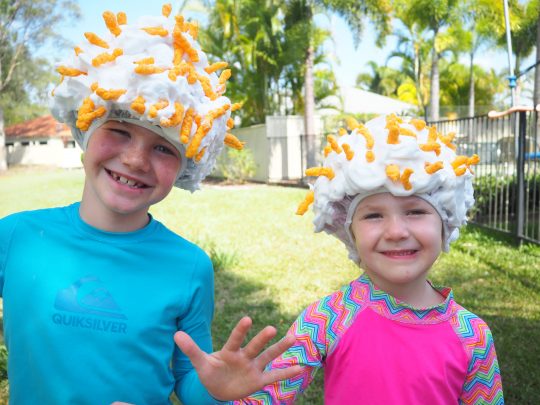 To play this game, you will need one shower cap per person, some shaving foam and some cheetos and/or twisties.
Place on the cap then cover with shaving cream. Teams are divided into two; one with the cap and one without. The one without is in charge of throwing the cheetos/twisties. Each team has one minute to land as many cheetos/twisties onto the shaving from as possible. The team with the most wins!
3. The Post it Note Game
All you need for this game is some post it notes and some willing participants. Again, teams are divided into two and each team has one minute to get as many post it notes on their other team member as possible. The team with the most wins!
4. The Pom Pom & Straw Game
Set up a start and finish line using masking tape and try to blow as many pom poms using a straw over the finish line in one minute!
5. The Dice Stack/Balance Game
Each team consists of two players. One player receives a large paddle pop stick and the other a handful of dice. The player with the paddle pop stick places it in their mouth and the other player has one minute to stack as many die as possible. This game is so much…it's really hard not to laugh and make all of the dice topple over.
We hope we have inspired you with ideas about how to have some fun, quality time with your family these holidays!
After a big day with the family too, it's lovely to get together over a lovely meal. These Turkey Quesadillas are so much fun to make and eat together as a family.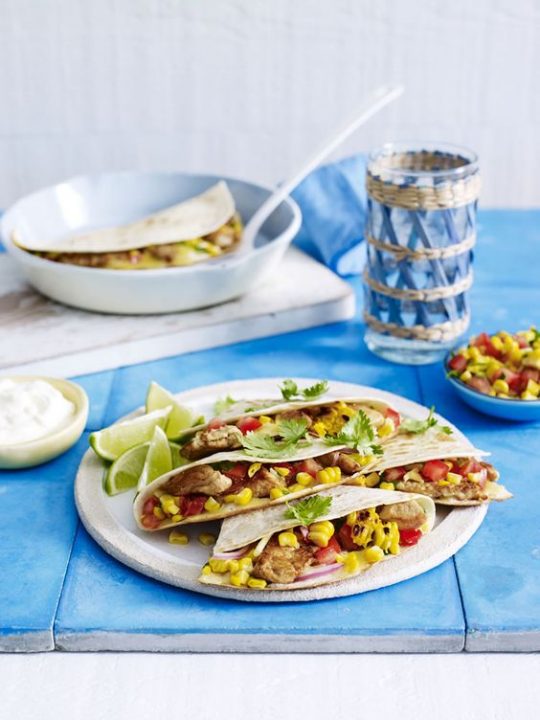 Ingredients:
500g Steggles turkey breast stirfry
2 corn cobs, husks removed
2 truss tomatoes, quartered, de-seeded, finely diced
1/3 cup coriander leaves, roughly chopped, plus extra sprigs, to serve
1 tbsp lime juice
1 tsp ground cumin
1 tsp ground coriander
Pinch of Mexican chilli
8 x 20cm flour tortillas
1 1/2 cups (120gm) grated tasty cheese
1 small red onion, thinly sliced
Sour cream and lime wedges, to serve
Method:
Heat a char-grill pan over medium-high heat and cook corn for 10 minutes, turning often, until lightly charred. Once slightly cooled, remove kernels from corn. Combine corn, tomato, coriander, and lime juice in a bowl.
Meanwhile, sprinkle turkey with cumin, coriander and chilli. Spray a large non-stick frying pan with olive oil and cook turkey for 4 to 5 minutes over medium-high heat or until cooked through. Set aside.
Spray 1 side of the tortillas lightly with olive oil spray. Place tortilla's oil-side down, on a clean surface. Top half of each tortilla with half the cheddar, turkey, red onion and half the corn salsa. Top with remaining cheddar and fold over tortilla to enclose.
Heat a frying pan over medium heat. Cook 1 quesadilla at a time, for 2 minutes until golden and cheese is melting. Transfer to a plate. Repeat with remaining quesadillas.
Cut quesadillas in half, top with coriander sprigs and serve with remaining corn salsa, sour cream and lime wedges.
Yummy!
What are your favourite ways to have fun with your family?
If you want to become a Fellow Fun Mum Member & receive all of our fun craft, recipes & activities as well as special offers & promotions – click the button on our home page 🙂
We also have some fun video tutorials for you to view on our YouTube Channel.