There's nothing more heart warming and soul filling than being kind – especially when it's for no reason at all. I think it's a beautiful tradition to start in a family. Unexpected or 'random' acts of kindness are tiny gifts that are given over and over and then paid forward. If you did just a few of these a week it will completly change your life! It will enrich the lives of your children by teaching them empathy and compassion and it's a wonderful bonding experience.
See below 50 ideas that you can start today!
==========================================================
Make bags of Playdough and give them to the neighbourhood kids
Bake some Muffins and take them to a local Fire Station
Get your child to draw a picture for a loved one and mail it to them
Pay for the person's meal behind you at a drive through restaurant
Buy lemonade from a kid's lemonade stand
Leave random sticky notes with kind quotes on the mirror of a public restroom
Make or buy dinner for a friend (here are some yummy ideas)
Carry around snacks/drinks in the car to give to homeless people
Hide a love note in your spouse's lunch box or briefcase
Bake some Muffins and take them to a local Fire Station
==========================================================
Bring a security guard a hot cup of coffee
Get your child to draw a picture for a loved one and mail it to them
Write your partner a list of things you love about them
Write a letter to someone (teacher, parent, leader, etc.) who has made a difference in your life and thank them
Offer to watch someone's children so they can take a break
Tell a random parent you see that they are doing a good job
Put some extra change in someone's parking meter
Let someone go ahead of you at the grocery store
Pay the toll for the driver behind you
Bake treats for animals and take it to your local animal shelter (it will make their week!)
==========================================================
Donate old books/toys to a doctor's office, a shelter, a daycare, etc
Leave some coins in a gumball machine
Help someone carry their grocery bags
Bring doughnuts to your local police department
Make baked goodies for your neighbors
Let your spouse sleep in
Let someone have the better parking spot
Go to a retirement center and do some arts and crafts with them
Call a homeless shelter. Ask what they need. Bring it.
Give up your seat on a bus
==========================================================
Buy parking passes to give to parents of children in the hospital
Hold the door for someone
Wash someone's car for free
Talk to the cashier at the store about their day
Buy lunch for someone
Tape some money to the petrol/gas pump for the next person who gets petrol/gas
Give cold drinks to road workers in the summer months and hot drinks in the winter time
Leave a kind letter in a library book
Draw happy images on the on the ground in chalk
Share your umbrella with someone who didn't bring one
==========================================================
Leave cookies for the mailman
Volunteer somewhere
Leave tickets sitting around randomly at an arcade or give them to a young child
Smile at every single person you see for one whole day – this is a great challenge for the kids!
Donate colouring books to a hospital waiting room
Offer to take the neighbors dog for a walk
Send your mother a thank-you card on your birthday
Send extra copies of a nice photo to the people who are in them
Send a care package to a soldier
Leave one dollar coins around a dollar store (especially in the toy section!)
==========================================================
It's these simple random acts of kindness that can change the world in a profound way.
Have you done your Random Act of Kindness today?
Let us know of some more ideas below, we'd love to hear your ideas!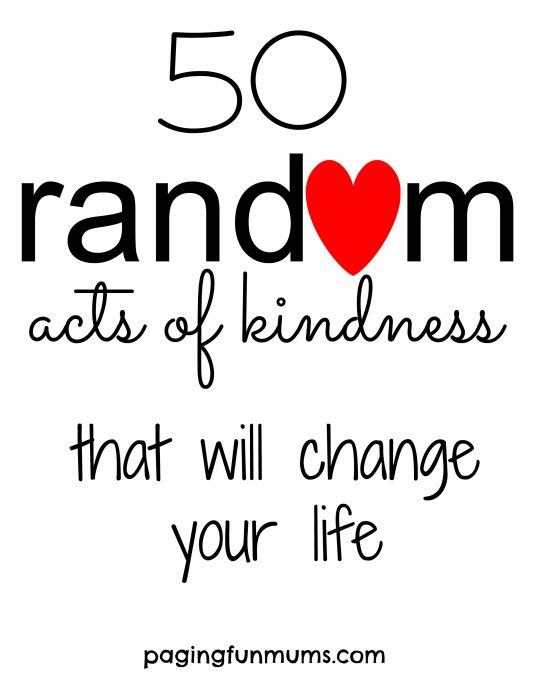 Jenni x
If you want to become a Fellow Fun Mum Member & receive all of our fun craft, recipes & activities as well as special offers & promotions – click the button on our home page 🙂 
We also have some fun video tutorials for you to view on our YouTube Channel.