This post is sponsored by Olympus Imaging Australia.
Kids grow up fast, that's something we hear all the time…and it's true! Jenni and I are amazed and delighted to see the Christmas spirit and innocent wonder that our children have but we know all too well that the magic of Santa will not last forever. There is just a small window of time between a child truly grasping the concept to them finding out the real truth. Sometimes I wish there was a way to freeze time, stop my kids from getting older so I can enjoy them longer, I find myself captivated by their animated joy and try my best to lock these memories into my mind to look back upon as they get older. We really don't want these memories to go past undocumented, we want to enjoy and capture these magical years in the best way we can, and we would like you to be able to do the same!
I decided to sit down with my children and film their responses to some fun Santa questions, this was the perfect way to preserve some of this Christmas magic forever! I knew this video would be something I would cherish, I even think it will be something they will love to watch when they're older and possibly when they have a family of their own. I set up my trusty Olympus camera on a tripod and documented their responses, I then synced the footage directly to my phone to edit and share the video. I'm really thrilled with the result, although I didn't realise our pool fountain was on which explains the sound of water running, note to self: test the sound before you film.
We designed this fun printable for our children to complete to go along with their video. You can download it here for free.
Whilst we are on the subject of Santa, Olympus Imaging Australia are sponsoring Santa photos in 10 shopping centres around Australia. We visited the Noosa Civic centre to get our annual photo taken and boy oh boy are we were glad we did! They have a magical rainforest filled with hundreds of beautiful butterflies and lush green forests. It truly was a spectacular display, I think it created a calming effect for the children too.
These are the great locations you can find the Olympus Imaging Australia Team – Eastland (Melbourne), Castle Hill Towers (Sydney), Robina (Gold Coast), Westpoint (Sydney), Hyperdome (Brisbane), Noosa Civic (Sunshine Coast), Grand Central (Toowoomba), Hinkler Central (Bundaberg), Woodgrove (Melbourne) and Watergardens Town Centre (Melbourne).
We love our Olympus Mark II This camera not only looks great but it's also compact enough to fit in your handbag and the image quality is amazing. It pairs directly with your phone, you can take quality photos and quickly transfer them to your phone to conveniently share them with friends and family. To be honest we hardly use our phone camera any more as the image quality just doesn't compare.
We know you're going to want to start capturing beautiful Christmas memories straight away with your new camera so here is an awesome DIY project to create some FUN Christmas themed photos!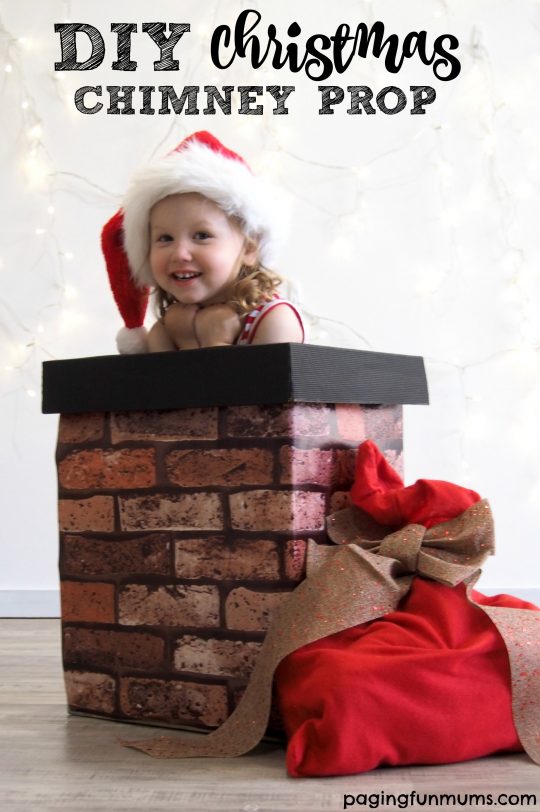 What you'll need –

A Camera, we recommend using a camera over a mobile phone (we used our Olympus PEN E-P5) 

Cardboard Box with an oversized lid
Small section of Brick Wallpaper to cover at least one to two sides (I purchased this Sample for $7 on eBay here).
Box cutter
Double sided tape
Black paint
Extra props – Santa Hat, Santa Sack & fairly lights
Instructions –
Simply cut your wall paper to cover at least one to two sides of your cardboard box, tape it down and then cut the opening in the lid. We painted the top cardboard lid in black paint. That's it…a DIY chimney!

We've always enjoyed taking our own Christmas photos at home, you don't need to be a professional to do it either. In fact all the pictures in this blog were taken on Auto mode to show you just how great these cameras are. Click here to learn everything about these versatile cameras.
PS – They have a super special offer happening RIGHT NOW!
Receive a Prepaid VISA Card valued at up to $200 and the Olympus Camera Travel Accessories Pack valued at $129 with the purchase of a OM-D E-M10 Mark II, OM-D E-M5 Mark II or PEN-F Camera. The Olympus Camera Travel Accessories Pack consists of a soft camera case, memory card holder (holds 6), luggage tag, and a zipper carry all document wallet; and is valued at $129. Click here for all the details.
We wish you and your families the most magical Christmas ever and that you'll capture some of that magic to keep forever.
Merry Christmas!
Louise xx
If you want to become a Fellow Fun Mum Member & receive all of our fun craft, recipes & activities as well as special offers & promotions – click the button on our home page 🙂 
We also have some fun video tutorials for you to view on our YouTube Channel.