Here's a beautifully soft 'Calming' Lavender Play Dough recipe that has a lovely and calming effect.  I made this for Master 2 to play with before his daytime naps. He's become quite used to the calming sensation paired with a little 'quiet' play,  he often requests it before bedtime at night too. I can't help but join in, there is something so relaxing about playing with this soft and squishy dough, it's a fantastic stress reliever!!
We altered our  No-Cook Playdough Recipe to create this simple dough – all in under 5 minutes!
Ingredients
1 cup of flour
1/2 cup of salt
2 tbs of cream of tartar
1 tbs of oil
Food colouring (we used Purple)
1 cup of boiling water
1/2 teaspoon of Lavender Oil
Directions
Mix all ingredients except the boiling water together into a large mixing bowl. Combine the purple food colouring and the Lavender Oil into the boiling water *this is a job for adults* – please be very careful handling boiling water around children. Make a well in the center of the dry ingredients and pour in the water, mix well and then turn onto some baking paper to cool.
*Tip the play dough gives off the most 'scent' when it's still slightly warm. This happens naturally from the warmth of your hands but i have been known to give the dough a little 'hit' in the microwave (15 seconds or so). *carefully re-kneed the dough fully before giving to your child so their are no 'hot spots'.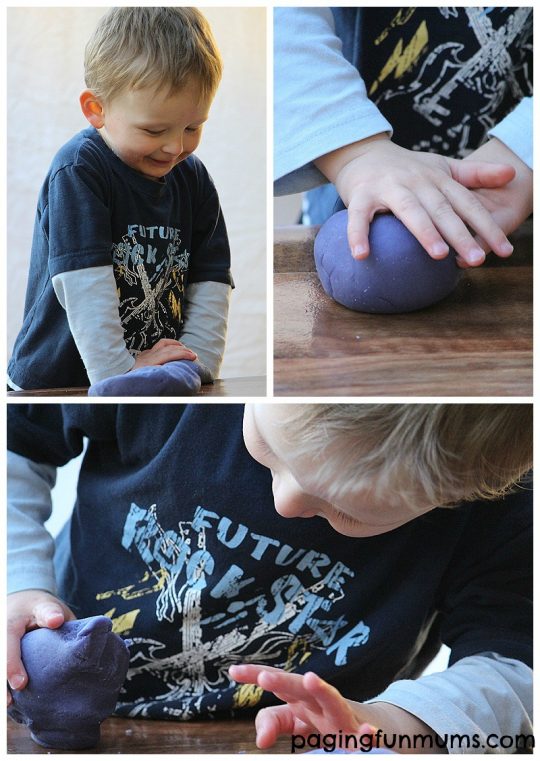 We hope you enjoy this stress relieving play dough and most of all I hope it brings some lovely calming play into your homes too.
Louise x
You may also enjoy these simple and FUN recipes –
If you want to become a Fellow Fun Mum Member & receive all of our fun craft, recipes & activities as well as special offers & promotions – click the button on our home page : )