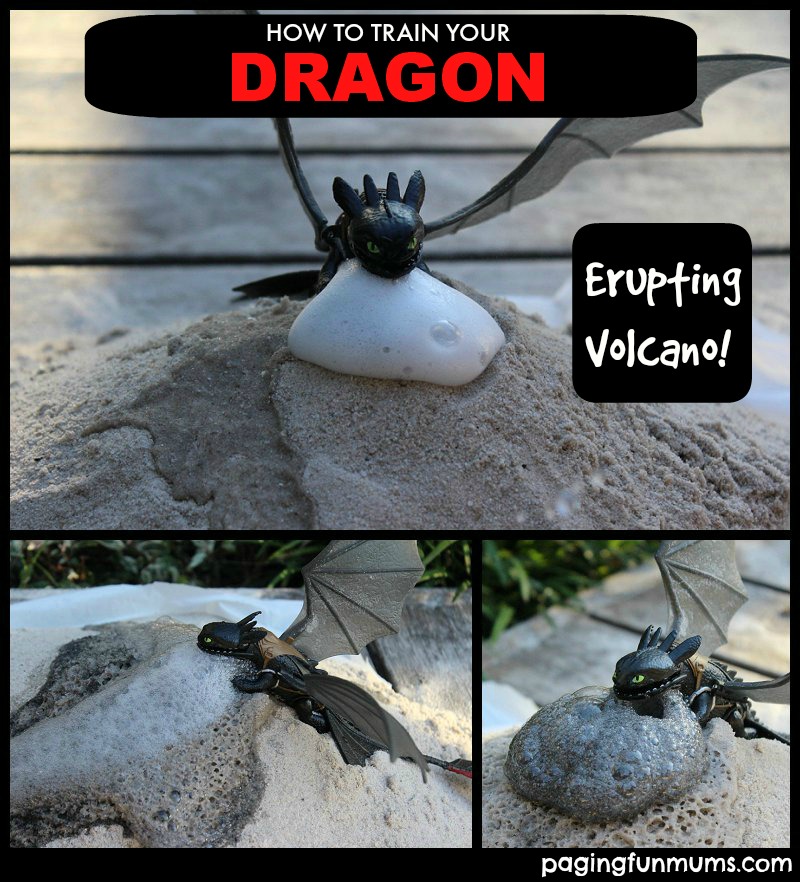 My 5yo Daughter is OBSESSED with The 'How To Train Your Dragon' Movies & TV shows so I came up with this great activity to include her favourite movie character…Toothless!!
The Erupting Dragon Volcano!!
What we used –
A Toothless figurine
Sand (from our sand box)
Bicarb Soda / Baking Soda
Vinegar
Plastic container to hide within your volcano (we used a beaker from our collection)
Instructions – 
Fill your plastic container with 1 cup of Bicarb Soda or Baking Soda and bury in some sand to create a volcano shape. Place your dragon on the rim of the beaker, add as much vinegar until foam starts to spill out – you can do this again and again until your container/beaker is full!
The kids just adored this awesome activity/science project!! So much FUN!! You can of course do this without the dragon and have great results ;).
If you enjoyed this activity you may also like –
FUN Science Experiments for Kids
How to Make Aqua Sand at Home!
Louise x
If you want to become a Fellow Fun Mum Member & receive all of our fun craft, recipes & activities as well as special offers & promotions – click the button on our home page : )