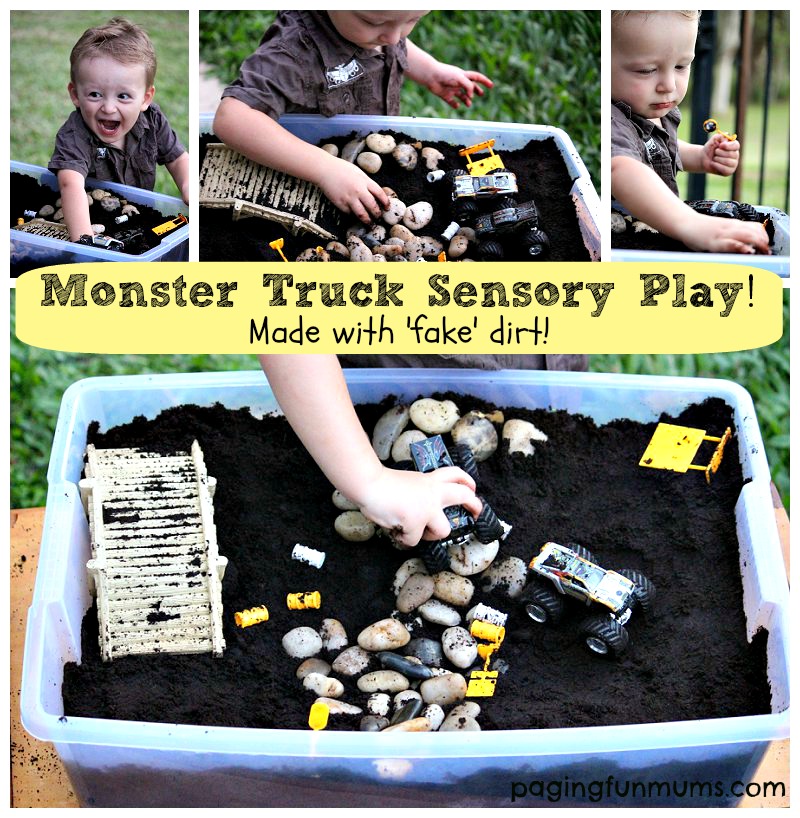 Wow, this Monster Truck Sensory Tub was one of those projects that I wish I had done years ago. It cost very little to make (we used everything we already had at home) and the kids spent hours playing with it! I even got the 'dirt' for FREE…from Starbucks of all places!!
What we used –
1 medium plastic storage container with lid (handy to store away for future play)
2 x bags of recycled coffee grounds (enough to mostly fill our tub)
Monster Trucks
Bag of loose rocks from our local discount store
Loose play objects – (signs, drums and a wooden bridge from a Dinosaur play kit)
My 5 year old daughter asked if she could set the activity up as a surprise for her 2 year old brother – she spent the whole 2 hours of his nap time playing with it…I mean 'setting it up' lol.
Master M was so excited to see it waiting for him! He immediately set about "roaring" the Monster Trucks around the track and exploring all the loose parts in the tub…all the while I quietly sat back and enjoyed snapping a few photos and having a nice cup of coffee – because the lovely aroma of coffee was all through the air and making me thirsty.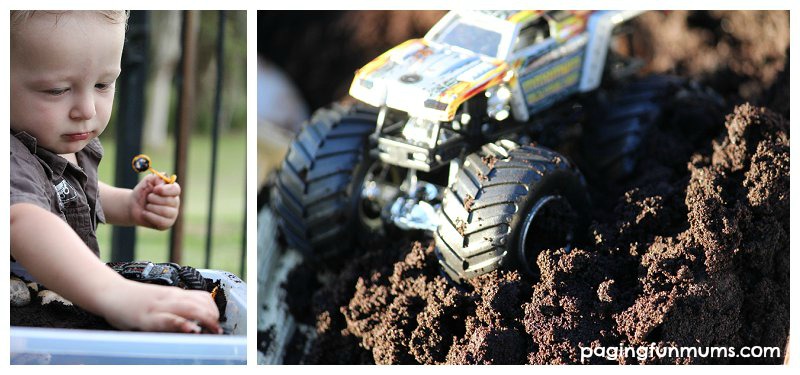 We've stored our tub exactly how it is (with the lid on) for more play tomorrow, then when they've had enough fun with it they can help me spread the coffee grounds through the garden (yes, coffee grounds are great for your garden!!). *Obviously we don't want our children eating the 'dirt', if you're concerned you should keep a close eye on them.
It wasn't until after we did this activity that I googled this title and found some more great ideas – my favourite was this Monster Truck Sensory Tub by Crayon Box Chronicles. I wish I had seen it earlier because we would have used some of their awesome ideas! You can check it out here!
I hope you enjoy this great Sensory Play idea and give it a try at home!
Louise x
You might also enjoy these cool activities –
If you want to become a Fellow Fun Mum Member & receive all of our fun craft, recipes & activities as well as special offers & promotions – click the button on our home page : )