We love collecting and crafting with Pinecones – mainly because they are in abundance where we live and look fantastic once they're decorated…especially with beautiful beads.
It was my 5yo daughter's idea to make some into mini Christmas Trees. I loved these Pine Cone Pom Pom Trees from Rainy Day Mum. We decided to make ours using some 'blingy' beads instead of Pom Poms.
I started by giving them a quick coat of spray paint to give them a nice shinny lime green colour. Then I gave Miss M some School Glue and beads.
I was so thrilled to see how much her fine motor skills have improved over the last few months – she had no problem adding a drop of glue followed by a bead on each 'branch'. We also had some sequined stars that we added to the top of each tree.
We think they look marvoulous hanging on our tree – so much so we decided to give some as gifts to Miss M's teachers this year.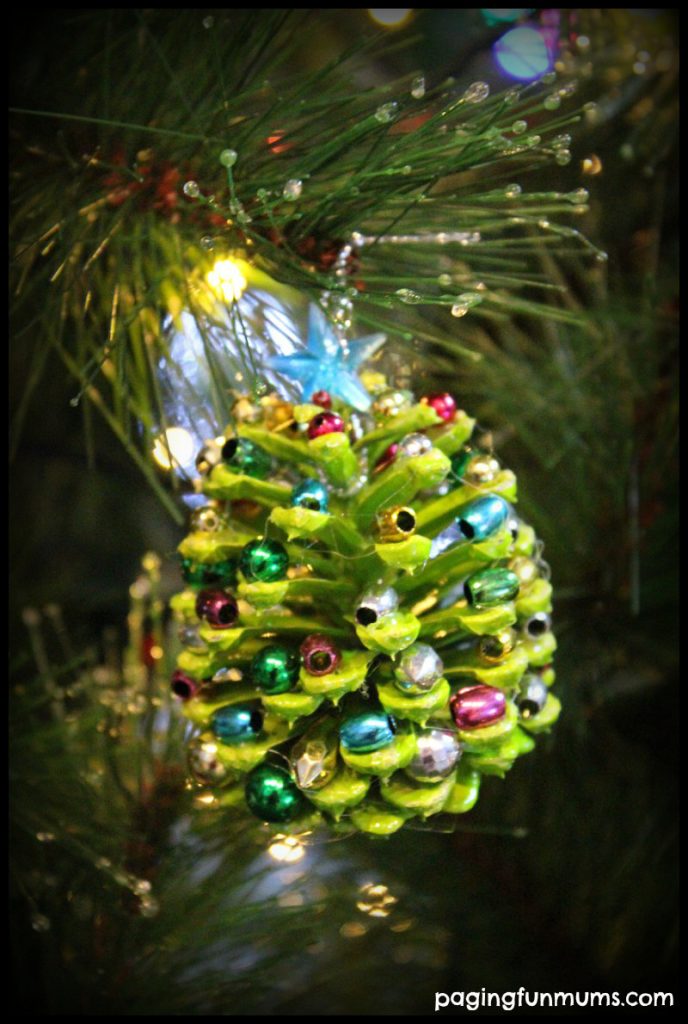 I hope you find inspiration from this easy craft and give it a go at home with your children or grandchildren.
Louise x
If you like this craft you might also like these other cute Christmas/ Pinecone Crafts – DIY Pinecone Tree, Pinecone Owl Ornaments, Glowing Christmas Trees – Using Party Hats!, Snowman and Penguin Thumprint Baubles or our cute Clay Christmas Owls.
If you want to become a Fellow Fun Mum Member & receive all of our fun craft, recipes & activities as well as special offers & promotions – click the button on our home page : )