Homemade FIZZY Chalk Paint!
If you've been following our blog for a while you'll know how much we love to play outside with Sidewalk Chalk!
It was only a matter of time before we tested this DIY Sidewalk Paint out! We adapted the recipe from the Kids Activities Blog.
We actually tested it out last summer using food colouring but were disappointed to discover it didn't wash off the driveway as easily as first thought – but don't worry this recipe washed off first go :).
Here's what you'll need –
5  empty tubs (recycled Ice Cream containers are perfect)
1 500g box of Bicarb Soda
5 Cups of cornflour
Water
Washable (water based) paint
Vinegar
Empty spray bottle
Paint Brushes
Start by evenly dividing the bicard onto the five containers followed by one cup of cornflour and one and a half cups of water. Mix the ingredients with a wisk to break up any lumps then add one tablespoon of water based paint and mix in well.
Fill the spray bottle with some white vinegar and you are all set to go.
We used a roller paint brush as well as some large brushes to paint our outside wall – it's a dark grey colour and therefore perfect for this style of painting. We also tested the paint on the driveway and road surface – it worked perfectly.
The kids had such a great time painting with the mixture and loved how the colours started to lighten as they dried on the wall.
Once the painting was dry (probably half an hour later) we tested the vinegar spray on the paint – to the kids amazement it started to bubble and fizz in front of their eyes!!! They all took turns spraying the wall and listening to the fizzing sounds.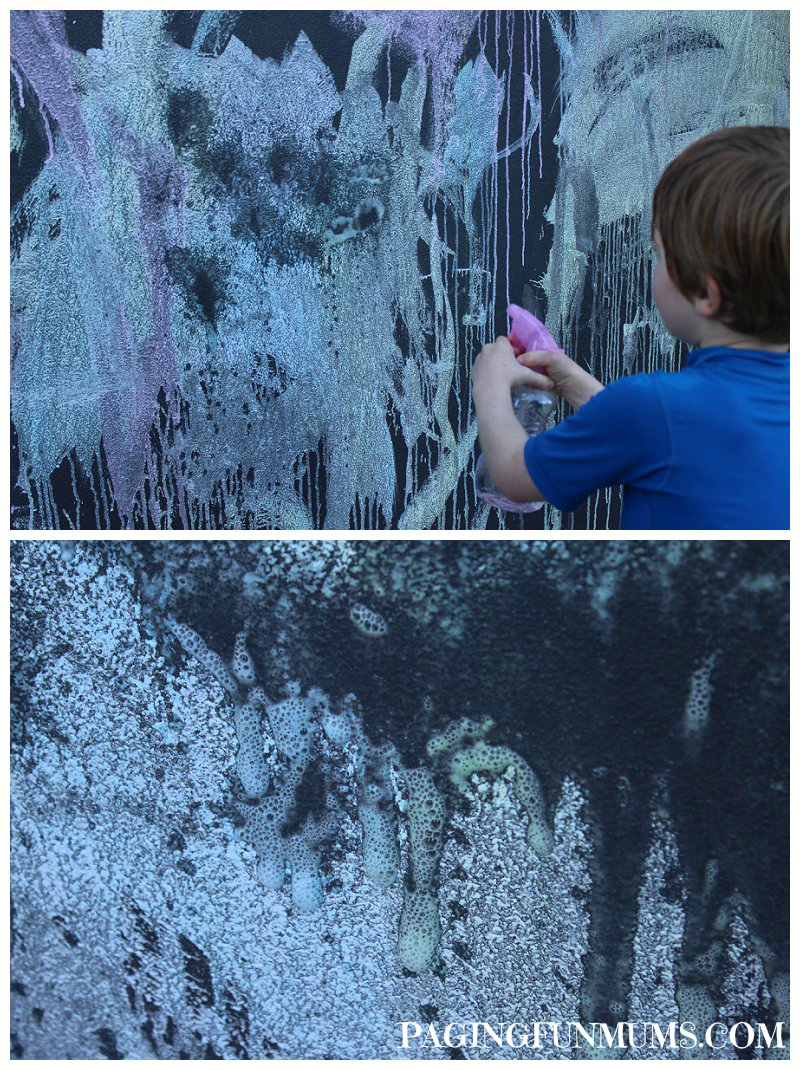 Finally the kids enjoyed helping me to hose away the paint using the hose – we are delighted to report there were no leftover marks on either the wall, driveway or road.
We hope you enjoyed reading and browsing through the photos in this blog – hopefully it inspires you to give this a go with your kids! And don't forget to check out our other cool homemade Paint Recipies – like our DIY Bath Paint, DIY Edible Paint, Homemade Fingerpaints , DIY Foam Paint, DIY Puff Paints, Salt Painting and our DIY Paint Brushes!
If you want to become a Fellow Fun Mum Member & receive all of our fun craft, recipes & activities as well as special offers & promotions – click the button on our home page : )