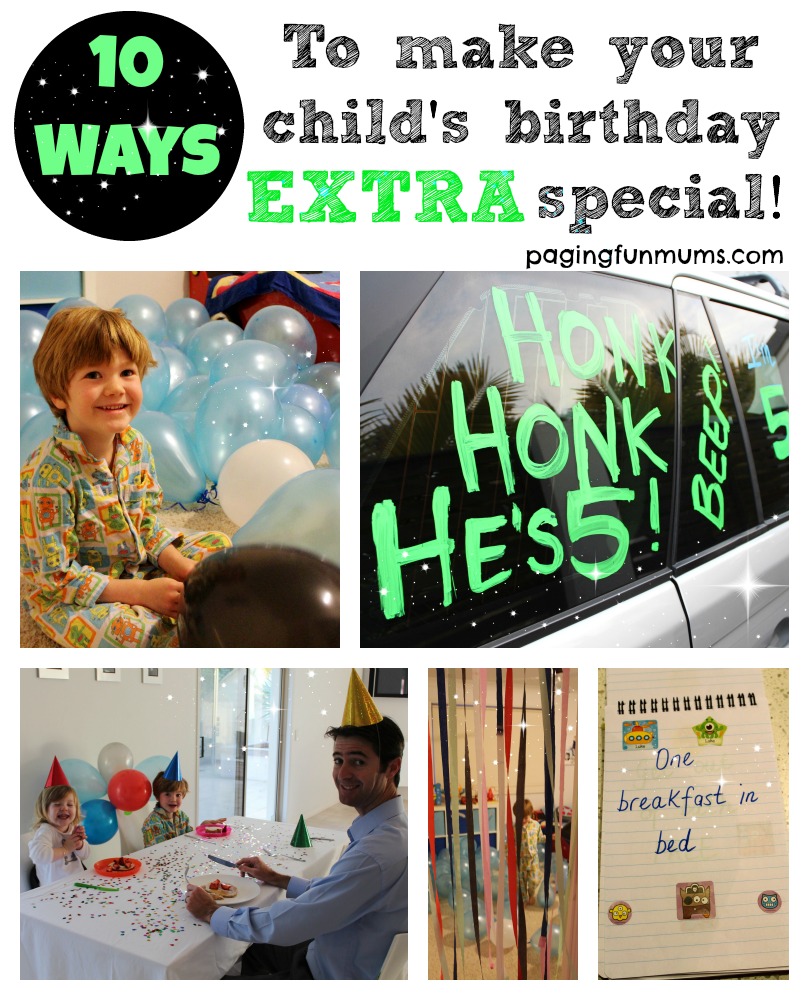 As a child, my best memories aren't from material things, but things to me, that seemed 'magical'. I remember my Dad waking me up (just me, not my brother's) in the middle of the night and drove me to the city to see the Christmas windows at a huge department store. I also remember a very popular puppet show that my class was going to and we each had to bring a puppet made from a milk carton. When I woke up on the morning of the show, there was the best puppet I had ever seen complete with woollen piggy tails made out of a milk carton!
I can go on and on, but you see my point. These lasting memories are what makes a childhood so very special and I want my kids to have those wonderful 'magical' memories.
This year my little man turned 5 and I did everything I could think of to make his special day EXTRA special.
Here is a list of 10 ways to make your child's birthday EXTRA special
1. Fill your children's bedroom with balloons and streamers whilst they are sleeping. My little man could barely contain his excitement and he just couldn't work out how we pulled it off without him hearing us : )
2. Decorate the breakfast table! I put a white tablecloth on the table and covered it with colourful party scatters. I then tied a large bunch of balloons to his chair and then added party hats for us all to wear.
3. Make a special breakfast. My little man's favourite breakfast of all time is pancakes. So I made heart shaped pancakes with strawberries and icing sugar…yes, icing sugar! Birthday's only happen once a year right!
4. Wear party hats at the breakfast table. Master L thought this was wonderful as did his little sister – as you can tell by her face…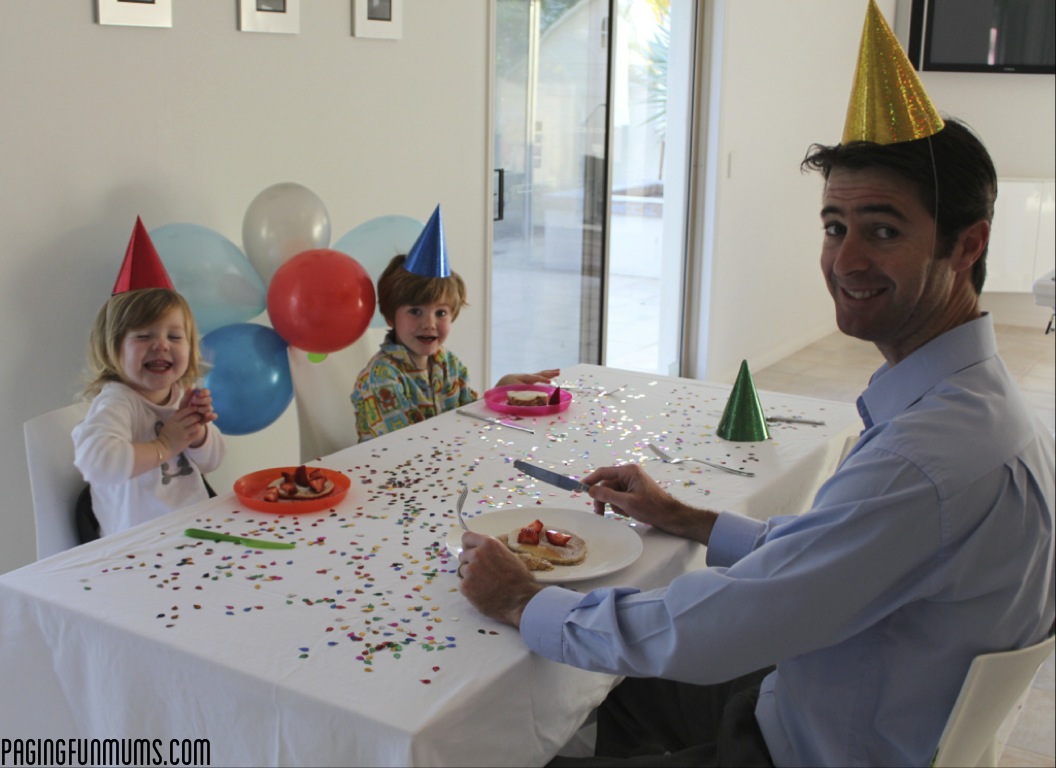 5. Write 'Honk it's my birthday' on the car. I found some window/poster board markers at my local $2 shop and covered my car with "Honk it's my birthday", "I'm 5 today" etc. We had cars beeping as we were driving around town. It gave me goosebumps! Master L was pretty chuffed too. Next year I am going to drive past the schools at pick up and drop off times….that should get plenty of beeps!
6. Take them somewhere special. My little bloke chose to go to 'Chipmunks' which is a play centre in our area. You could go to a special park, the beach, a river – anywhere that your child thinks is special.
7. Let them choose the dinner for the family. There was no doubt in my mind that our dinner would be 'Chips, Nuggies & Sauce"!
8. Make up a 'voucher book' to 'cash in' different special treats. Such as: One free chocolate biscuit, an extra 10 minutes to stay up after bed time, one get out of bath free voucher.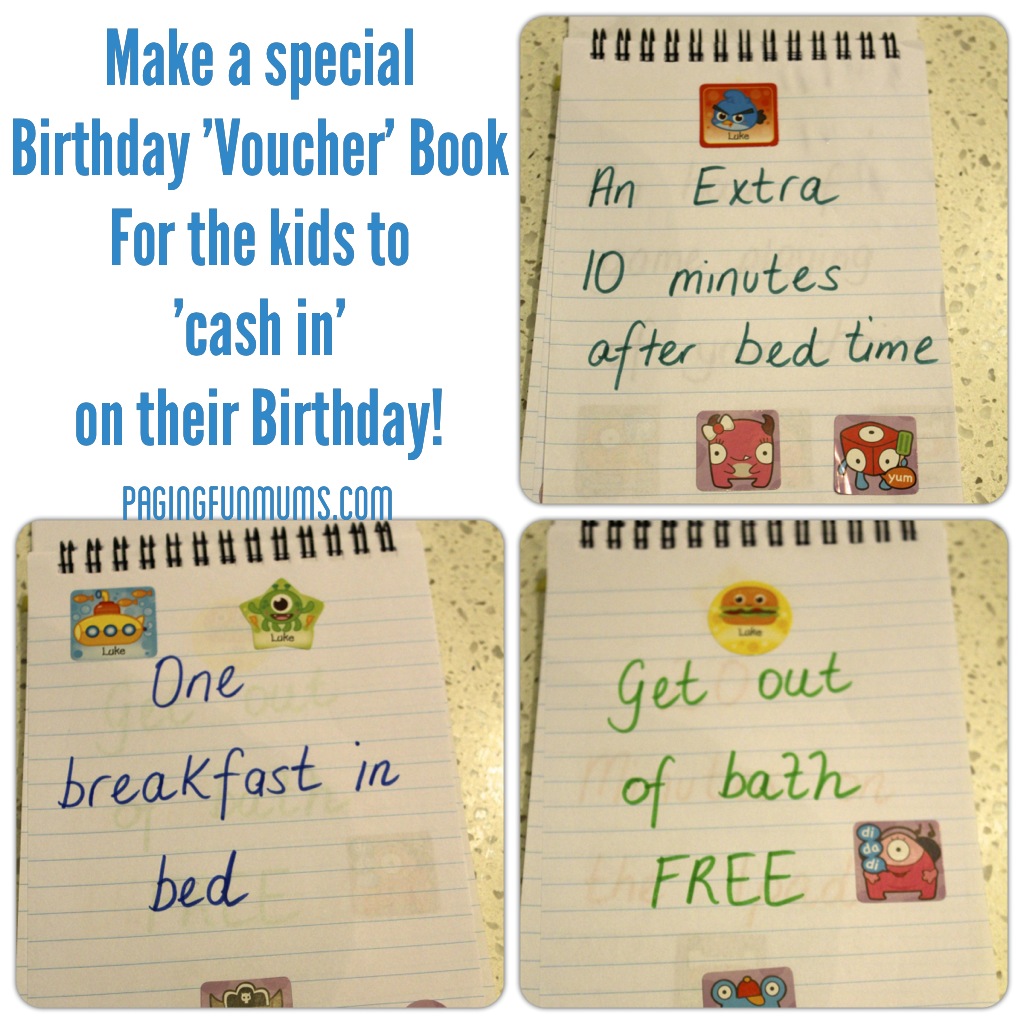 9. Say 'Happy Birthday' at every opportunity. I must have said it at least fifty or sixty times! It got a huge grin EVERY time.
10. Let them answer the phone "Hello birthday boy/girl speaking". All of the friends & family calling to send Happy Birthday wishes were pretty chuffed at this one too.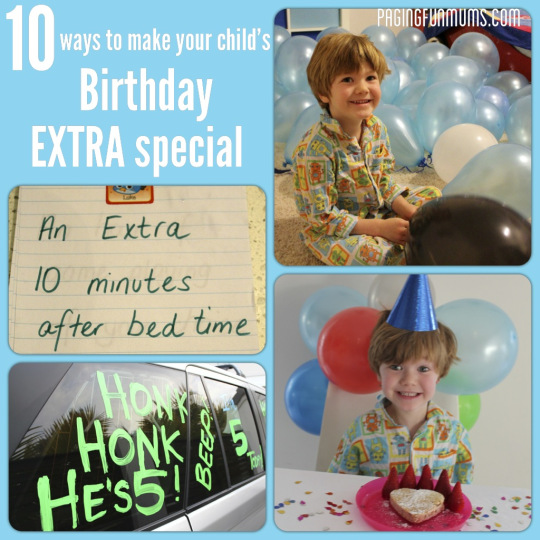 So there you have 10 simple, easy and adorable ways to make your child feel extra special on their birthday. I can't tell you how much I enjoyed this. With just a few simple ideas, I was able to transform my son's birthday into something magical that he will always remember (and if for some reason he doesn't, I have PLENTY of photos to remind him ; )
Let me know if you have any other ideas I can add to this for future birthday's!
We also have some fun videos for you to view too! You can check them out 
here.
If you are a little bit nostalgic like us at Paging Fun Mums, then you may also like our:
If you want to become a Fellow Fun Mum Member & receive all of our fun craft, recipes & activities as well as special offers & promotions – click the button on our home page : )