As soon as I decided on the Hot Air Balloon theme I set about designing a cake. I have made several fondant birthday cakes in the past but I am no professional, I knew it had to be simple with no huge amount of technique. I liked the idea of using a real balloon – a lot easier than making one out of icing anyway ;).
I chose to make a woven basket using brown fondant (50/50 fondant and gum paste). This was easier than you might think! I made a circle base and inserted several sticks of dry spaghetti to weave around. I made snakes from the fondant and weaved them around the spaghetti to form a basket. Once I achieved the right height I removed the spaghetti and finished the top with two 'snakes' twisted together.  I made this one week in advance so it would dry nicely and support the balloon.
Confession time – I don't bake the actual cakes! After so many failed attempts and spending a fortune on huge cake tins that never seemed to cook through properly in my oven – I decided to order the cake un-decorated from my local baker (Bread on Buderim). It saves me heaps of time and I know the cake itself will always be delicious and cooked properly.
I start by doing one layer of buttercream icing & refrigerating it for one hour – this gives it a stiff 'crust'.  While its refrigerating I colour my icing by kneading in a small amount and gradually making it darker until I achieve the right colour (in this case the main colour was made using Wilton Sky Blue).
I rolled the fondant out and gently placed it over the bottom and top layers of the cake. I used 4 wooden cake skewers inserted into the bottom tier to support the top layer then placed it on top.
The clouds were made using rolled fondant, cut out with a cloud cookie cutter and glued to the cake using sugar syrup. I then placed the basket on top ready for the balloon.
I used clear sticky tape to secure the inflated blue balloon to 4 striped drinking straws and placed that inside the basket. I also added some rope detail and a small bunting made using the pintables package* then filled the basket with M&Ms to help keep the straws in place.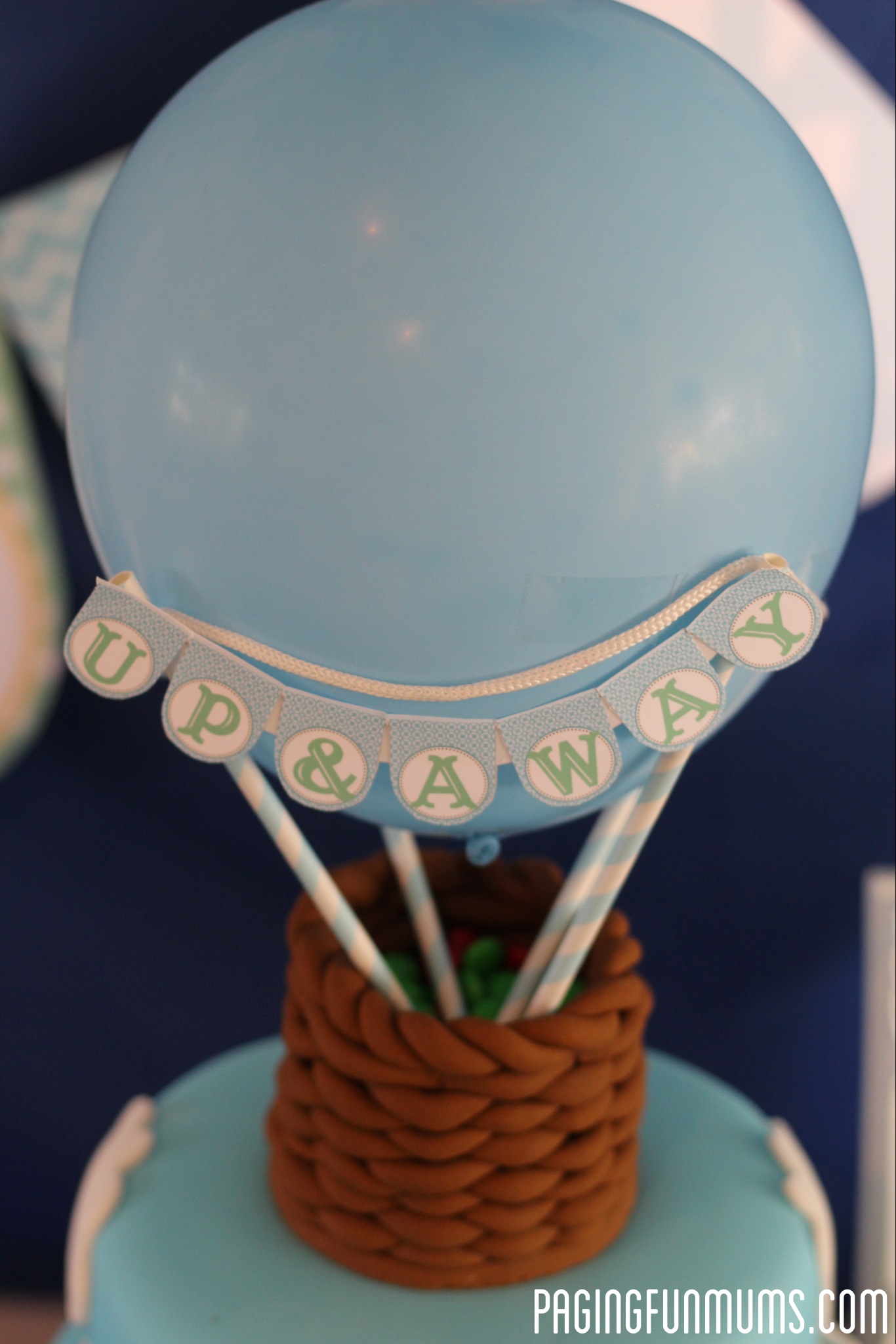 I was so happy with the end result! It looks so impressive for a relatively simple cake :).
Louise x
If you want to make sure you receive all of our fun crafts, activities & ideas, be sure to subscribe to our blog & we'll email you!
Oh and  why not pop over and 'like' us on Facebook (https://www.facebook.com/PagingFunMums) OR perhaps Twitter is your thing (https://twitter.com/PagingFunMums). You can also find us on Instagram & Pinterest too : )