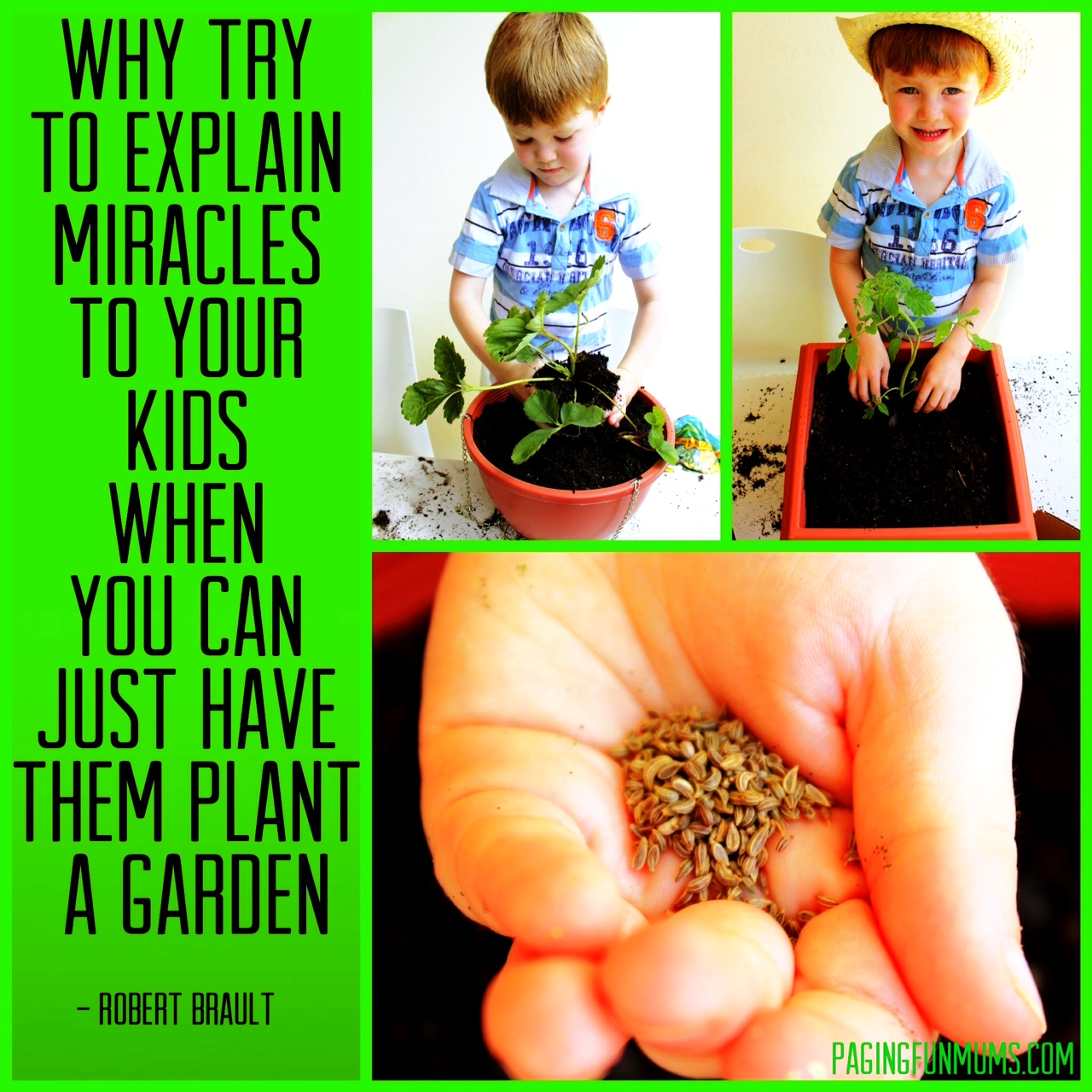 We all had such a great time planting a new edition to our already flourishing Herb Garden! Growing a Herb Garden is an easy way to teach the Kiddies all about how Plants grow and are a great first step to learning about gardening. Herbs are very easy to grow and from a mere seed, you see growth quite quickly! A Herb Garden is also a terrific way to get Kids to become interested and familiar with new flavours and encourage them to want to incorporate them into their food (just ask Jamie Oliver – he's kinda like a second Dad around here lol!…I'm a little obsessed!). I never thought I would see the day where a 4 year old would ask for Chives on his Scrambled Eggs!…my Little Master L does just so!
Ok, so if you want to do the same for your little Cherubs here is what you will need to get you started:
Planting Pots (any shape or size but preferably with drainage holes)
Soil (good soil, don't buy the cheap stuff, your Herbs just won't survive)
Seeds (we've used Parsley, Chives, Mint, Sage, Thyme, Rosemary, Basil – all are great little growers!)
Seedlings (this is a good idea so the kids can plant an actual 'plant' aswell)
Spade
Water.
So once you have gathered your goodies…
Fill the pots about 2 cms from the top with the soil.
Read the back of the Seed Packets to work out how deep and how far apart to plant your Seeds (for us so far we've just sprinkled them randomly & crossed our fingers…it always works!). Then cover with soil.
For the seedlings (again very easy), fill the pots with soil, dig a little hole for the plant to sit, place the plant, then push down the soil around it.
Give them a light watering then place in a sunny spot…that's it!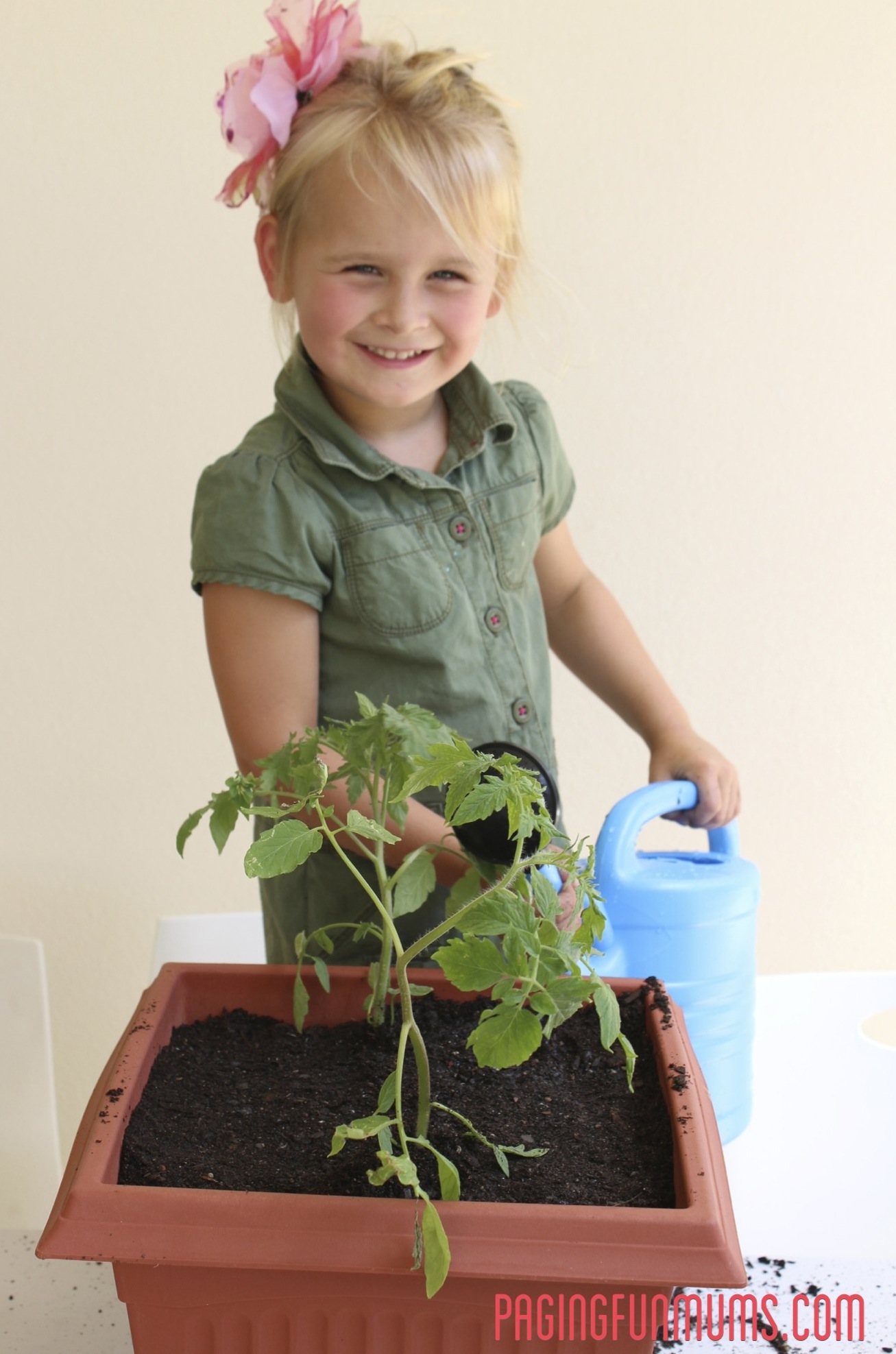 Then it's just a matter of waiting for the magic to happen! We water ours every afternoon (but I'm told you only need to do it every other day). The seedlings start to sprout in about 7 – 10 days. The kids are so excited when they discover the first sprout (which I always make sure they do of course!).
You'll then be able to start tasting your new herbs in about 6 weeks. It's good to give them a bit of a hair cut to encourage growth.  It's also a good idea to fertilise your garden every 2 weeks – we use an Organic brand but you can use whatever you like!
A Herb Garden is a great way to educate your Kids, it's a fantastic bonding experience (as I said, we are out together every afternoon watering and checking on our garden), it's cost efficient, it's great for your health and what you grow will taste far superior to anything you would buy at the shops! I can't recommend it enough! It's also great for your sanity…just 10 minutes watering my herb garden, is like an hour at the hairdresser…(or at least I try to trick myself into believing that ; )
We also made some custom 'Green Thumb' Herb Garden Labels.
All you need for these are :
Green Paint
White paper or card
Something to adhere your label to (I bought mine from the $2 shop…you could use a paddle pop stick & some laminated card)
Laminator – you will need to protect your little master pieces from the weather. Your local Newsagent or Print shop can do this for you if you don't have your own
Glue – we used our trusty glue gun, but anything that can withstand some rain would be perfect!
Then it's just a matter of dipping a cute little thumb (preferably that of your child) into the paint & stamping it all over the paper/card. Once this is dry, run it through the laminator.
Then cut out the thumb prints & adhere them to your Label  & write the name of your preferred Herb – I used a Fine Point Nikko Pen.
My lovely Paging Fun Mums counter part and Photographer extraordinaire Louise, has done some awesome Dragonflys to accompany any garden of your choice…check the link here https://pagingfunmums.com/2013/01/24/fun-easy-bottle-cap-bug-craft-louise/
It really ties the garden together!
Happy planting green thumbs!
If you want to become a Fellow Fun Mum Member & receive all of our fun craft, recipes & activities as well as special offers & promotions – click the button on our home page 🙂